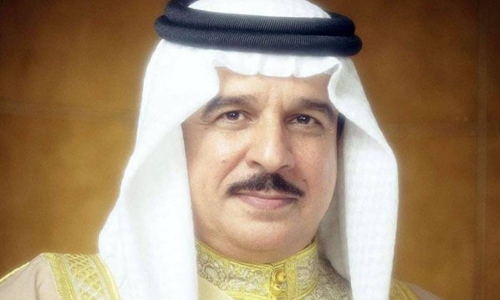 HM King hails Muharraq key role in progress
TDT | Manama
The Daily Tribune – www.newsofbahrain.com
His Majesty King Hamad bin Isa Al Khalifa hailed the role of Muharraq in laying the foundations for Bahrain's developments, as well as the citizens' contributions to national work, along with all the people of Bahrain.
"The city of Muharraq has great contributions to the ancient history of Bahrain in all areas and fields," said HM the King as he received last night at Al Sakhir Palace wellwishers from the Governorate of Muharraq.
HM the King welcomed the attendees and exchanged Ramadan greetings. Present were HM the King's Personal Representative, HH Shaikh Abdulla bin Hamad Al Khalifa, and HM the King's Representative for Humanitarian Work and Youth Affairs, National Security Advisor, HH Shaikh Nasser bin Hamad Al Khalifa.
His Majesty praised Bahrain's successes and achievements in various fields and sectors, hailing citizens' qualities, strong determination and persistence and assiduity.
"The people of Bahrain have proven in all circumstances and stages in the nation's march their constant commitment to serving their country with utmost sincerity and dedication," he said.
"The Kingdom is moving forward in the process of development and progress across all governorates to achieve the aspirations of its people and meet all their needs," said HM the King, wishing citizens and residents many happy returns and success in serving the nation and contributing to its development and progress.
The Muharraq well-wishers presented gifts to HM the King on this blessed occasion. They expressed congratulations to HM the King on the holy month of Ramadan, wishing him abundant health, happiness and long life and the Kingdom and its people further progress and prosperity under his wise leadership.
They hailed development strides, service and housing projects and programmes in the Governorate of Muharraq thanks to HM the King's directives and support. Dr Khalid Jassim Boumtea delivered a speech on this occasion on behalf of the Muharraq people, congratulating HM the King on the holy month of Ramadan.
Dr Boumtea hailed HM the King's keenness on spreading the values and principles of tolerance, peaceful coexistence and interfaith dialogue, noting the historic visit of His Holiness Pope Francis, to take part in "Bahrain Dialogue Forum: East and West for Human Coexistence", along with His Eminence Dr. Ahmed Al Tayeb, Sheikh of Al Azhar Al Sharif and Chairman of the Muslim Council of Elders.
He extended deepest thanks and gratitude to His Royal Highness Prince Salman bin Hamad Al Khalifa, the Crown Prince and Prime Minister, hailing his efforts in leading Team Bahrain to motivate creativity and investment in youth.
He praised the pivotal role of the Supreme Council for Women led by Her Royal Highness Princess Sabeeka bint Ibrahim Al Khalifa, Wife of HM the King, to support Bahrain women's advancement.
Dr Boumtea also paid tribute to the Bahrain Defence Force, the National Guard and the Ministry of Interior, hailing the level of combat readiness they have attained, as well as their devotion and sacrifices in defending the homeland.