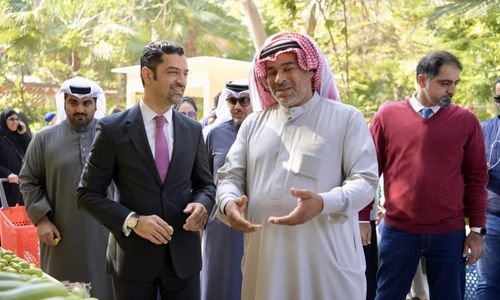 Over 120,000 people visit Bahraini Farmers' Market
TDT | Manama
The Daily Tribune – www.newsofbahrain.com
Bahraini Farmers market attracted more than 120,000 people till now, said Wael bin Nasser Al Mubarak, the Ministry of Municipalities and Agriculture, yesterday.
The market, the minister said, achieved this remarkable feat within two months of opening doors at the Budaiya Botanical Garden.
The minister said this as he talked to farmers and visitors while taking a tour of the market organised by the Ministry of Municipality and the National Initiative for Development of the Agricultural Sector.
The market opened its doors on the 10th of December 2022.
The minister also visited the children's corner at the market and honoured two of the participating children for maintaining cleanliness.
"The huge turnout over the course of 8 weeks stands as a testament to the popularity enjoyed by the market, which has become a major platform for Bahraini products," the minister said.
The ministry, he said, will spare no efforts in developing initiatives and programmes that will enhance the agricultural sector.
This year, the market had the participation of 32 farmers, four agricultural companies, five nurseries, four apiaries, four specialists in dates and 20 productive families.
The minister also confirmed attracting more than 10,000 children to the market through various events and activities.
Shaikha Maram bint Isa Al Khalifa, the Secretary-General of the National Initiative for the Development of the Agricultural Sector, said the turnout reflects the support for Bahrain products.