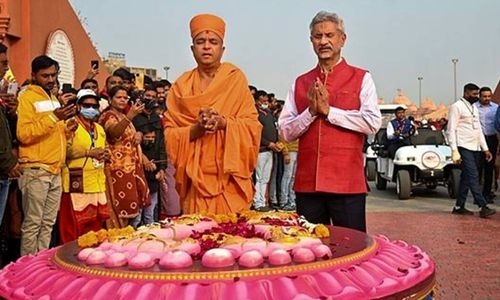 BAPS temple planned in Bahrain a 'miracle', says Indian minister
TDT | Manama
The Daily Tribune – www.newsofbahrain.com
The Bochasanwasi Akshar Purushottam Swaminarayan (BAPS) temple excepted to come up in Bahrain has been described by India's external Affairs Minister as one of the "two consecutive miracles in the Gulf".
S Jaishankar was speaking at the "Gulf Countries Day" as part of the ongoing centenary celebrations of Pramukh Swami.
"It is "something bigger than a miracle" with two temples — one under construction at Abu Dhabi and another expected at Bahrain – "when two miracles are happening consecutively in the Gulf." "It was Pramukhswami's dream and prediction, and we are all resolute on it that this temple is made sooner and grander," said Jaishankar.
He also termed BAPS an association that is both "local and global" and is an organisation that "uses technology while also taking care of tradition".
Stating that Pramukh Swami's ideals also inspire him on foreign policy, Jaishankar emphasised the concept of 'vasudhaiva kutumbakam' exemplifying with G20.
Delegates from the Gulf countries, who attended the event, also hailed Pramukh Swami's resolve to clean the blood from the Akshardham temple following the terrorist attack in September 2002 as well as the initiative of the upcoming temple in Abu Dhabi.