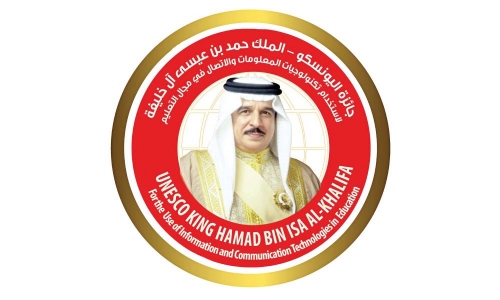 Nominations open for UNESCO King Hamad ICT prize
TDT | Manama
The Daily Tribune – www.newsofbahrain.com
The call for nominations for the 2022 edition of the UNESCO King Hamad Bin Isa Al-Khalifa Prize for the Use of ICT in Education is now open. The deadline to receive nominations ends at midnight on 23rd January 2023, according to The United Nations Educational, Scientific and Cultural Organization.
The ceremony to honour winners will be in April or May 2023 at UNESCO headquarters in Paris, after the international jury meeting in March 2023. Established in 2005 with the support of Bahrain, the Prize rewards individuals and organisations for implementing outstanding projects and promoting the creative use of technologies to enhance learning, teaching and overall educational performance in the digital age.
An international Jury selects two best projects annually. Each prize winner receives US$ 25,000, a medal and a diploma. Every year the Prize has a specific theme. The theme for 2022 is "The use of public platforms to ensure inclusive access to digital education content."
Dr Mohammed bin Mubarak Juma, the Minister of Education, said the 2022 edition focuses on three keys to universal public digital education. The award focuses on rewarding projects that have made public digital learning platforms and digital content universally accessible, developed digital competencies for all teachers and learners, and promoted universal connectivity in education.
Jury for this year's award includes Ethel Agnes Pascua-Valenzuela (the Philippines), Ibrahima Guimba-Saidou (Niger), Dr Inge Molenaar (the Netherlands), Jawaher AI-Mudhahki (Bahrain) and Werner Westermann (Chile).
Only those projects ongoing for at least a year will qualify. Individuals, institutions and non-governmental organisations or entities are eligible to apply. The 2021 laureates are "Initiatives for Inclusive and Accessible Education" from India and "Ubongo Digital Education Programmes" from the United Republic of Tanzania.