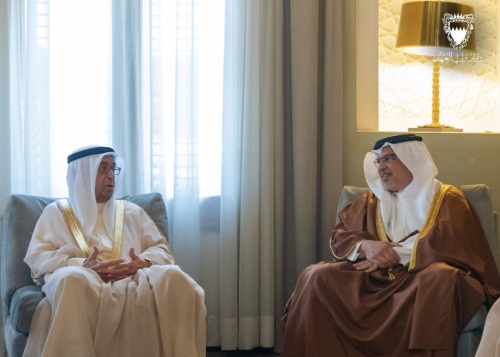 Bahrainis are top priority in kingdom's development
TDT | Manama
The Daily Tribune – www.newsofbahrain.com
The Deputy King, His Royal Highness Prince Salman bin Hamad Al Khalifa, emphasised that Bahraini citizens remain at the core of Bahrain's development and are the priority in the development of various programmes, initiatives and development plans.
HRH the Crown Prince and Prime Minister noted that the next phase of development requires a redoubling of efforts to ensure challenges are turned into opportunities that benefit citizens.
HRH Prince Salman was speaking as he met yesterday with the Special Representative of His Majesty King Hamad bin Isa Al Khalifa, HH Shaikh Mohammed bin Mubarak Al Khalifa, the Deputy Prime Minister and Minister for Infrastructure, Shaikh Khalid bin Abdulla Al Khalifa, the Minister of Interior, Lt-General Shaikh Rashid bin Abdulla Al Khalifa, and the Minister of Finance and National Economy, Shaikh Salman bin Khalifa Al Khalifa, at Riffa Palace.
Remarkable results
His Royal Highness affirmed that the Kingdom's national development continues to achieve remarkable results across various fields that benefit all, thanks to the united efforts of Bahraini citizens.
He highlighted Team Bahrain's continued determination, which has enabled the Kingdom to attain wide-ranging accomplishments, in line with HM the King's far-reaching visions. The senior officials expressed their appreciation for His Royal Highness' commitment and support to the Kingdom's comprehensive development goals, led by HM the King.