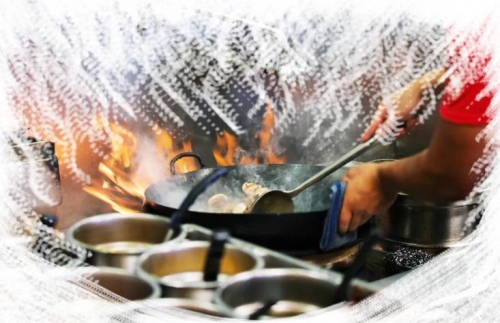 Out of the frying pan, into the fire? Cooks grapple with 'rising kitchen heat'
TDT | Manama
The Daily Tribune – www.newsofbahrain.com
Staff Reporter
While midday break is a great blessing for outdoor workers, hundreds belonging to one sect of indoor workers are pleading to the authorities to also include them in the summer work ban group.
Most of the cooks at local restaurants are in a terrible state of affairs as cooking over hot stoves is a health risk, especially during the peak of this summer.
"Nobody is there to speak for us," a cook at a local restaurant in Umm Al Hassam told The Daily Tribune. "I have been doing this job for eight years here. I know many cooks who developed health issues in their efforts to entertain the taste buds of hundreds of customers," he said.
Long hours in the hot kitchen often followed by late-night eating are perfect recipes for health disasters and this is common among the majority of local restaurant cooks. Studies have revealed that inhaling cooking fumes for longer hours can lead to respiratory problems among the kitchen staff.
"A restaurant kitchen is nothing short of a hell," another cook at a restaurant in Gudaibiya, said. "We live with extreme temperatures, sharp tools, excessive working hours, late nights, split shifts, lack of proper sleep and improper diets."
He said, however, extreme temperature is the mightiest of all the sufferings. "I have developed acute knee pain after standing for longer hours apart from lifting heavy pots and pans. Frequently leaning over kitchen tables while preparing food has caused deformities in my ligaments and discs in the lower back."
Malfunctioning exhaust fans
Many restaurant kitchens are often filled with smoke owing to malfunctioning of the exhaust fan. The fire alarms are also defunct at many restaurants, risking the lives of many staff working there.
What does the expert say?
Speaking to The Daily Tribune, Shakil P, a fire and safety expert said kitchen exhaust fan failure at restaurants should not be taken lightly.
"Kitchen exhaust fan failure most often originates from a build-up of grease in the ductwork. Airborne fat and oil from cooking build up in a kitchen's exhaust filter and travel through the ducts to the roof. This blocks ventilations, reduces air flow and acts as a ticking time bomb for potential grease fires."
"Restaurants with inappropriately cleaned or defunct exhaust systems are undoubtedly at an elevated risk of catching fires. Owners should be careful about this or else a small error could lead to horrifying tragic incidents," he added.
Above 50 degrees Celsius
A cook at a restaurant in Manama urged the authorities to inspect every restaurant kitchen in the area and measure the temperature inside.
"I am pretty sure it will be consistently above 50 degrees Celsius. We are here for a living, to support our families back home. Our vulnerabilities should not be taken advantage of by these greedy restaurant owners, who don't install the right system to maintain temperatures inside the kitchen.
"No one cares for us. People relish the food we make, but does anyone ever think of the sufferings we undergo to prepare their favourite dishes? We too are human beings; our rights are being violated on a daily basis."