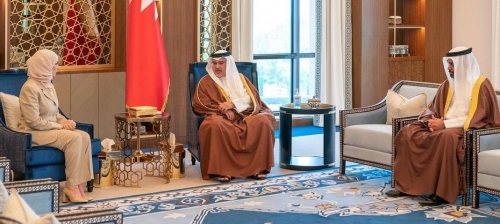 Citizens of Bahrain focus of development: HRH Prince Salman
TDT | Manama
The Daily Tribune – www.newsofbahrain.com
His Majesty King Hamad bin Isa Al Khalifa's vision, which puts the development of citizens at its core, lays the path for Team Bahrain, said His Royal Highness Prince Salman bin Hamad Al Khalifa, the Crown Prince and Prime Minister.
In this regard, HRH highlighted the importance of cooperation between the executive and legislative authorities and hailed it as a model for teamwork and Kingdom's continued development. HRH Prince Salman was meeting Fawzia bint Abdullah Zainal, the Speaker of the House of Representatives, in the presence of Shaikh Salman bin Khalifa Al Khalifa, the Minister of Finance and National Economy, at Gudaibiya Palace.
Expressing thanks and appreciation to the executive and legislative council members, HRH Prince Salman praised them for their fruitful cooperation throughout the fifth legislative term. His Royal Highness also praised the pivotal role of the house of Representatives in strengthening Bahrain's ties with countries around the world.
Zainal stressed the value of joint efforts in achieving the Kingdom's comprehensive development goals, led by His Majesty the King. HRH Prince Salman, the Crown Prince and Prime Minister, said he is looking forward to achieving everything that contributes to the development and advancement of the Kingdom and its citizens.