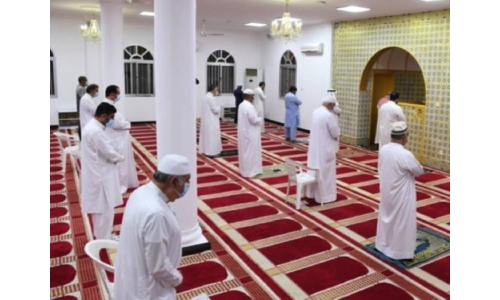 Bahrain mosque closed after Covid-19 case report
TDT | Manama
The Daily Tribune – www.newsofbahrain.com
The Ministry of Justice, Islamic Affairs and Endowments yesterday announced the temporary closure of a mosque in Northern Governorate following the reporting of a COVID-19 case.
The decision is in line with the efforts of the Health Ministry and the National Taskforce to Combat COVID-19 to tackle the spread of the virus within the Kingdom. "The decision was taken as a public health requirement as well as to protect the worshippers from being infected with COVID-19.
Sanitisation and disinfection measures are in place along with other precautionary steps," the ministry said yesterday. The ministry stressed its keenness to implement precautionary measures across all centres of worship to ensure the safety of worshippers. It also emphasised the need to adhere to guidelines set by the Health Ministry as well as the task force.
The Kingdom recorded 1,894 new cases on Monday while the number of active cases stood at 12,313. Last week, the Ministry of Health announced the closure of many restaurants for violating the protocols stipulated by the Yellow Alert Level that is in place now.
The measure was taken following an inspection campaign conducted in co-operation with the Ministry of Interior and the Ministry of Industry, Commerce and Tourism.
Inspectors last week visited 265 restaurants and cafes and took measures against 22 before referring them to competent legal authorities. Last week, the ministry also carried out 17 visits to the salon and took legal measures against nine gents' salons for violating health measures.
The ministry called on everyone to continue adhering to the precautionary measures, and to report any violations or irregularities immediately, highlighting that the inspection campaigns are aimed at protecting public health and curbing the spread of the pandemic.