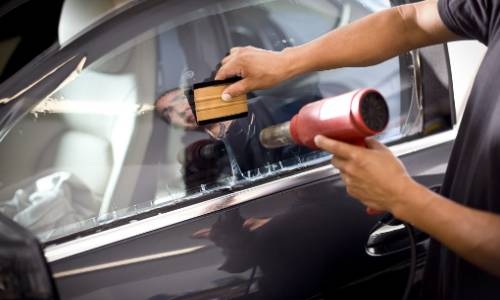 Bahrain says 'No' to sun films on front and rear windows of cars
TDT | Manama
The Daily Tribune – www.newsofbahrain.com
The soaring temperature might have prompted many among us to place a tinted windscreen or black sun films on the windows of cars to beat the heat. However, if you are one of those who had tinted your car windows, quickly make sure that the film used is not illegal to avoid legal actions.
A new decision by General Shaikh Rashid bin Abdullah Al Khalifa, the Minister of Interior, and published in the official gazette says that it is illegal to place transparent films on the front and rear windows of cars.
The side glasses must have a minimum of 30% visibility. Meaning, the opacity of films used on car side windows should not exceed 30% transparency and should not prevent the view inside the car or reflect a view.
Using such films on the front or rear windows of cars is a violation. The new decision also requires that films thus used should be transparent without colour and should not obscure vision or reflect images to any degree.
Films also should obstruct the inside view of the vehicle and should not bear any decorations, inscriptions, pictures, drawings, or others markings. Films should be of the type allowed in Bahrain and not harmful to people or the environment, as determined by the General Directorate of Traffic.
Cars mostly are coming to the market with 30% tint from the factory. According to Article 4 of the law, the glass windows fitted by manufacturers on vehicles also should not exceed (30%) the opacity level. Else, owners should remove it at their expense.
Exemption for emergency vehicles
The law exempts emergency vehicles from the requirements and could have films inside and outside the glass areas. Emergency vehicles include all vehicles owned by the Bahrain Defence Force, the National Guard, the Ministry of Interior and the National Intelligence Service, whether military or civilian and those not owned by these entities but operate within their transportation fleet and used for security service.
Other vehicles may also obtain exemption by giving valid reasons.
What about other GCC states?
In UAE, the total window tinting percentage (manufacturer's+added) should not exceed 50%. Earlier, a 30% Visual Light Transmission was permitted.
But taking into account the extreme weather conditions of Dubai, the 2017 regulations were amended to raise the tinting percentage, after which one can have their car's VLT limit to 50%. Tint and factory glass tint percentage must be less or equal to 50%.
In Saudi Arabia, the tint of the side, front and rear windows should be 30% transparent and should not prevent or reflect the view inside the car. The car tinting should not carry any decorations, inscriptions, or pictures that reduce the degree of transparency.
Previously, it was not permissible to tint front windows. In Kuwait, the law says the glass tint should not exceed 70%. Oman also says that the tint in the car windows should not exceed 30% transparency.