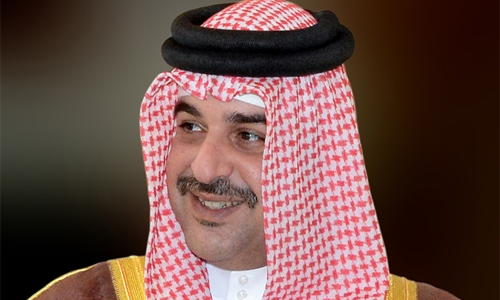 Sixth BIAS 2022 returns in November next year under the patronage of HM the King
TDT | Manama
The Daily Tribune – www.newsofbahrain.com
The sixth edition of the Bahrain International Air Show will take place next year at Al Sakhir Air Base, under the patronage of His Majesty King Hamad bin Isa Al Khalifa.
The three-day show will be from the 9th to 11th of November 2022, said HH Shaikh Abdulla bin Hamad Al Khalifa, HM the King's Personal Representative.
BIAS, in the past editions, had succeeded in attracting major civil and military aviation companies.
BAE Systems (Britain), Lockheed Martin (USA), Leonardo Company (Italy), Bell Helicopter (USA), Thales (France) and Coleman (USA) are some of the companies that agreed to take part in BIAS 2022.
HH Shaikh Abdulla is the Chairman of the Supreme Organising Committee of the Bahrain International Airshow.
"2022 event will provide renewed opportunities and will turn Bahrain into an attractive destination for investment in this vital sector, which represents 8% of the global outputs," said HH Shaikh Abdulla.
The sector provides jobs to more than 200 million people and contributes 3.5 trillion US dollars to the global output.
Bahrain, Shaikh Abdullah said, looks forward to benefitting from this industry by creating a value-added work environment through the presence of these companies in this airshow.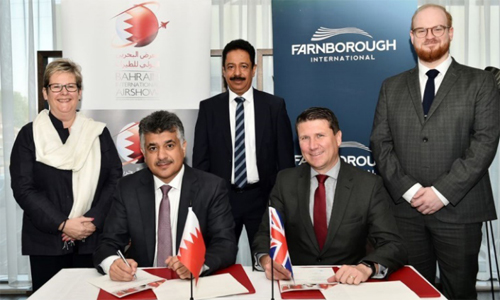 HH Shaikh Abdulla bin Hamad expressed thanks and appreciation to the government, led by His Royal Highness Prince Salman bin Hamad Al Khalifa, the Crown Prince and Prime Minister, for its support for the event.
Shaikh Abdulla expressed hope that BIAS 2022 will achieve outstanding results by promoting the Kingdom as an international investment destination.
Deal signed HH Shaikh Abdulla also said that the Kingdom is signing an agreement with UK-based Farnborough International for organising 2022 and 2024 events.
Kamal bin Ahmed Mohammed, the Minister of Transportation and Telecommunications and Deputy Chairman of the BIAS Supreme Organising Committee signed the deal.
Kamal Ahmed also held meetings with the Saudi General Authority for Military Industries (GAMI), the British Department for International Trade (DITUK) and several other companies participating in DSEI 2021 as part of BIAS 2022 preparations.