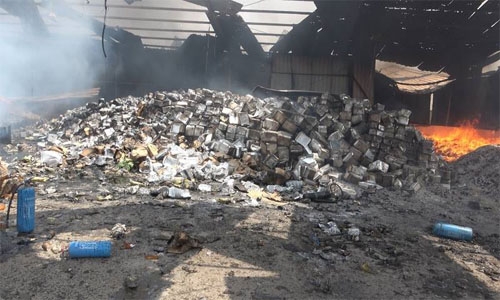 Stop cowardly attacks, demands Bahrain as Houthis attack Mocha port
TDT | Manama
The Daily Tribune – www.newsofbahrain.com
The Red Sea port of Mocha came under heavy attacks yesterday from Iran-backed Houthi militia, inflicting heavy damages to the newly opened port.
The blast caused injuries to six soldiers and destroyed the port's infrastructure and a warehouse containing large quantities of humanitarian and relief supplies. Eyewitnesses said they heard successive explosions from the port, which resumed works weeks ago.
They also reported seeing an ambulance rushing to the port soon after the explosion.
"A series of explosions rocked the Red Sea port of Mocha controlled by the government forces following coordinated Houthis strikes," Xinhua, quoting a local government source, said.
The source, on condition of anonymity, said four explosive-laden drones and three missiles struck the port.
Two of the drones were reportedly intercepted and shot down over the local town of Mocha before reaching their target.
A Transportation Ministry delegation was at the port located in Taiz's western part during the attack. Bassam Al Muflehy, head of the transport ministry, said Houthis timed the attack to coincide with the visit. "All of the team members are in a safe place now."
The pro-government forces captured Mocha on Yemen's western Red Sea coast from the Houthis in 2017.
The militia seized the northern Yemeni provinces, including the capital Sanaa, in late 2014, forcing President Abdu-Rabbu Mansour Hadi and his government into exile in neighbouring Saudi Arabia.
A coalition formed by Saudi Arabia and several other Arab countries intervened militarily in the Yemeni conflict against the Houthis in March 2015 in response to an official request from Hadi to protect Yemen.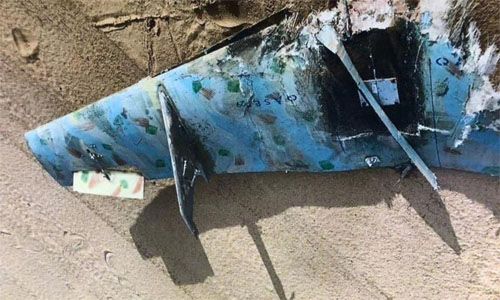 The Houthi militia also targeted the city of Khamis Mushait in Saudi Arabia yesterday with bobby-trapped drones, which was intercepted and downed by the coalition supporting legitimacy in Yemen.
Bahrain, in a strongly-worded statement, condemned the repeated targeting of the civilian facilities in the kingdom.
Terming the attack as a "cowardly terrorist act", Bahrain Foreign ministry reiterated the unequivocal support of Bahrain to Saudi Arabia in all the measures it takes to protect its security, stability and territorial integrity.
The statement also commended the coalition forces timely intervention. Bahrain also called on the international community to condemn the heinous attack, which contradicts all international laws and threatens the security and stability of the region.