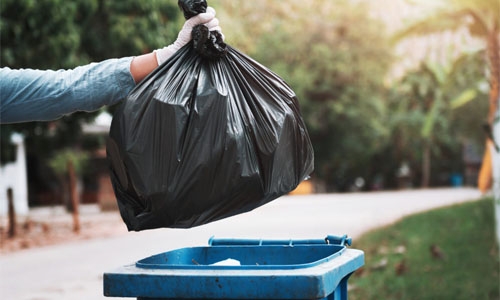 Each of us in Bahrain makes 1.08 kg of waste per day!
TDT | Manama
The Daily Tribune – www.newsofbahrain.com
Each individual in the Kingdom is producing 1.08 kilograms of waste per day, comfortably beating the world average of 0.74 kilograms per day, according to 2020 statistics.
The concerning rise in waste production had also pushed domestic waste to occupy 44% of the total waste removed daily.
On average, municipality workers are removing 2036 tonnes of wastes per day, which includes domestic, commercial, agricultural, construction and household wastes, the latest data said. The new data also says that construction waste accounts for 32% of the daily waste removed to the Askar landfill. For this, more than 2,891 cleaners, drivers, inspectors and officials are working 24 hours a day in all of the four governorates.
"They serve more than a million and a half people in the Kingdom through an integrated work mechanism that connects various cleaning companies."
Assisting them in the process are a fleet of automatic sweepers, small and large garbage collecting trucks, waste transport trucks, towing vehicles, cranes, and other equipment.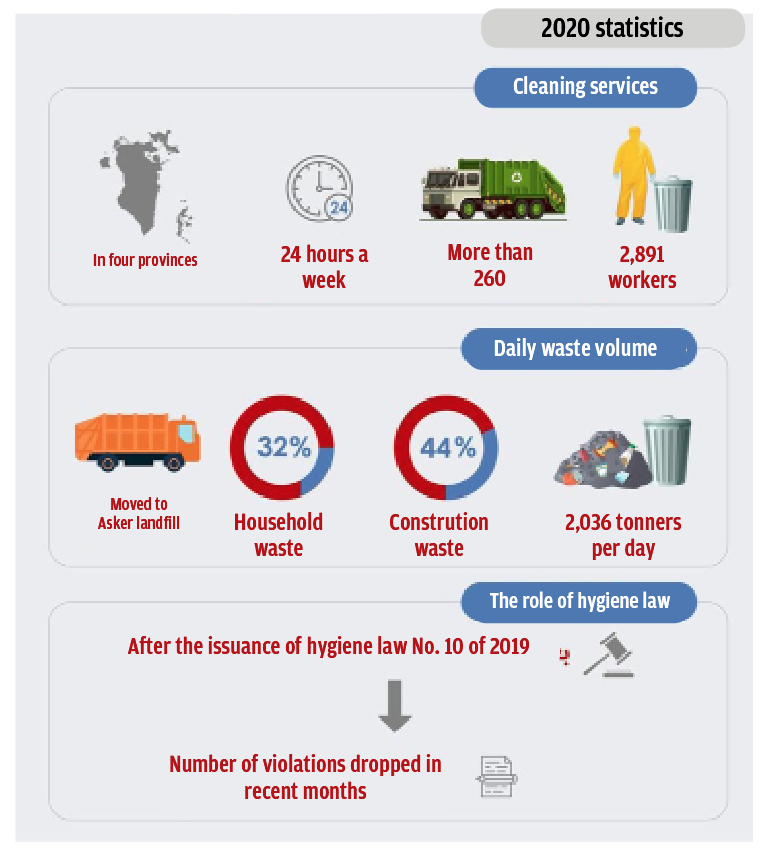 Workers are also constantly monitored by hygiene departments in municipalities and hold them accountable for faults.
The hygiene department uses programmes to monitor performance, complaints and suggestions.
All the vehicles are also tracked in real-time using GPS systems to measure work volume and working hours.
A team of inspectors, both from municipalities and cleaning companies, work to implement daily plans in residential and commercial neighbourhoods, the coasts and open and agricultural areas.
The cleaning services also cover the parks, walkways and green areas, which is constantly expanding.
Cleaning companies are responsible for removing waste from these sites, sewage from where there is no sewage network, and siphoning out rainwater from streets.
The municipalities also have a team of emergency responders to act in times of crisis, especially during sandstorms.
Cleaning departments are also responsible for removing encroachments on public roads with government departments.
The report also points out that the number of violations related to Public Cleanliness Law No: 10 of 2019 has reduced in recent months. Citizens and residents, the report added, cooperated with the inspectors in removing violations, especially cars for sale and scrap cars.