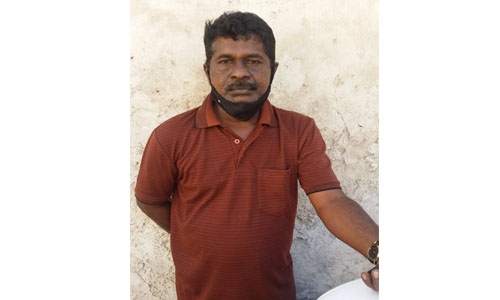 Indian Embassy, social workers save homeless man stranded in Bahrain following a travel ban
TDT | Manama
The Daily Tribune – www.newsofbahrain.com
With no passport, no job and no home to stay, all he had was the comfort of a park bench. He stayed there days and nights, battling the chilling weather and scorching heat, on an empty stomach. By the time people took note of his condition, Madhu was on the edge of peril, fighting for his life with troubled vision, dysphagia, and dysarthria.
Thanks to the intervention of the Indian Embassy and several other kind-hearted people, Parayanparambil Raman Madhu is set to fly back home, to his kith and kins, in India, leaving behind a dark episode in his life. Life went upside down for 53-year-old Madhu for committing a mistake during his life's journey as a watchman at an apartment complex here in the Kindom. "I took three months rent from clients there and failed to pay it to the owner," Madhu confessed to Sudheer Thirunilath of World NRI Council.
Sudheer Thirunilath, who learned about the situation of Madhu through MC Pavithran, a social worker, told Tribune that Madhu's ordeal started at that point. This led to the owner of the apartment pressing charges against Madhu for retrieving the BD8,250 he lost. Authorities also placed a travel ban on Madhu, pending settlement. Thrunilath, the director of Humanitarian Aid, Middle East Region and Country Head - Pravasi Legal cell, told Tribune that he then decided to approach Samaheej police station. Police took him into custody upon confirming the case against Madhu.
"This was a blessing in disguise for Madhu, who had neither a place to stay or food to eat," say Thirunilath. But things went South again when a spike in the COVID-19 cases led police to release Madhu. Madhu was on the streets of Bahrain again. "Things were back to square one, and now he doesn't have a place to stay," Thirunilath told Tribune. "Fortunately, with the help of ICRF and a few good friends, we found a temporary bed space for him and arranged a few food kits." "It was the intervention of the Indian Embassy that changed things positive for Madhu," Thrunilath adds.
Indian Embassy officials, understanding his predicament, took the initiative to talk to the apartment owner, who, finding the gravity of the situation, readily agreed to withdraw the case. Last Wednesday, Indian Embassy managed to remove the travel ban and issued an outpass to Madhu, who expressed his desire to move back home.
Sudheer Tirunilath thanked Piyush Srivastava, the Indian Ambassador, Embassy Officials, Arul Das, ICRF Chairman and ICRF Team for helping Madhu. "I also thank MC Pavithran, a social worker, for helping me understand the situation of the poor man." The issue come to a close after four months of intense follow up by the Indian Embassy. Thirunilath said Madhu is to leave Bahrain on a ticket booked by the Indian Embassy.