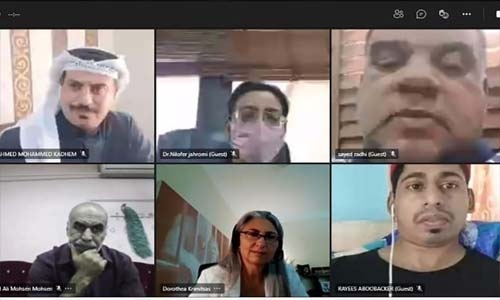 Bahrain Red Crescent Society volunteers participate in remote global training course
TDT | Manama
The Daily Tribune – www.newsofbahrain.com
About 55 Bahrain Red Crescent Society volunteers participated in a remote training course. The event was organised by the Society in cooperation with the International Committee of the Red Cross and the regional delegation of the Gulf Cooperation Council, where they were introduced to and trained over three days on the concept of "volunteering and volunteer management".
The first day of the course included workshops focused on introducing the International Red Cross and Red Crescent Movement, the code of conduct at the movement level, and the roles and principles of humanitarian action.
The second day covered topics including the International Committee of the Red Cross, migration and an introduction to restoring family links, And the use of information technology to find missing persons in disasters. On the third day, Bahrain Red Crescent volunteers were trained on using social media platforms in humanitarian media, in addition to the "safe access" to victims and providing them with assistance.
The Secretary-General of the Bahrain Red Crescent Society, Mubarak Al Hadi, said that the course comes within the framework of the Society's keenness to continue building the capacities of its volunteers from Bahraini youth in various fields related to relief and humanitarian work, qualifying them, training them, and ensuring their continuous and permanent readiness to help the needy in disasters, crises and various circumstances. Among the participants in this symposium were Dr Nilofar Jahromi, Muhammad Al Basri and Ali Modon.