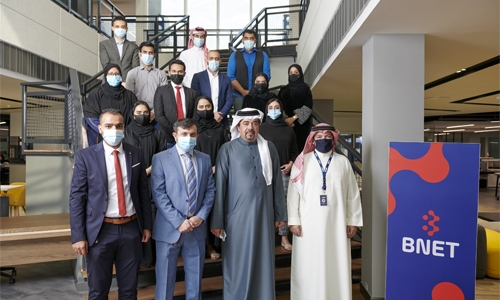 BNET opens Service Management Centre
TDT | Manama
The Daily Tribune – www.newsofbahrain.com
Bahrain's National Broadband Network (BNET has opened its new Service Management Centre (SMC) to support Bahrain's licensed service providers. The SMC provides 24/7 support for Service Assurance and order fulfilment related to all BNET products and services to enhance the customer experience.
BNET launched in October 2019 is responsible for providing broadband network services across the Kingdom of Bahrain.
Commenting, BNET CEO Mohamed Bubashait said, "Bahrain's National Broadband Company is delighted to introduce its new SMC which has been developed to improve the delivery of services to its valued customers, the Kingdom's licensed service providers." Bubashait thanked BNET Board Chairman Shaikh Ali bin Khalifa Al Khalifa and all BNET board members for their continuous support and guidance.
"The service will allow end-user customers across Bahrain to benefit from an enhanced experience when applying for new or upgraded broadband services, making their journey faster and more efficient," said BNET Chief Commercial Officer Ahmed AlSharafa. "Our goal is to connect 100% of all businesses and 95% of all households across the Kingdom, as part of efforts to ensure a resilient telecommunication infrastructure and support economic growth," he added.