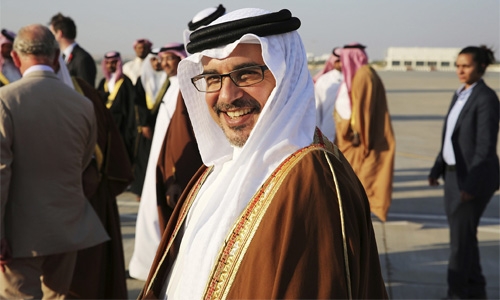 Greetings flow in for HRH Prince Salman
TDT | Manama
The Daily Tribune – www.newsofbahrain.com
Congratulations poured in from all across the globe for His Royal Highness Prince Salman bin Hamad Al Khalifa, the Crown Prince who took charge as the Prime Minister of Bahrain.
Ministers, top officials, diplomats, and ambassadors extended their deepest congratulations to HRH the Crown Prince and Prime Minister on the royal trust bestowed upon him, wishing HRH every success.
Messages of congratulations were sent by Labour and Social Development Minister, Jameel bin Mohammed Humaidan, Advisor to His Majesty the King for Media Affairs, Nabil bin Yacoob Al Hamer, Bahrain International Circuit (BIC) Chief Executive Officer, Shaikh Salman bin Isa Al-Khalifa, Executive Director of the Rashid Equestrian and Horse Racing Club, Shaikh Salman bin Rashid Al Khalifa, Royal Humanitarian Foundation (RHF) Dr. Mustapha Al-Sayyed, Capital Governor, Shaikh Hesham bin Abdulrahman Al-Khalifa, Information Ministry Undersecretary, Dr. Abdulrahman Mohammed Bahar, Undersecretary for Civil Aviation Affairs, Mohammed Thamer Al-Kaabi, Al-Fateh Mosque Khateeb, Shaikh Adnan Al Qattan, Legislation and Legal Opinion Commission (LLOC) Chairman, Chancellor Nawaf Abdulla Hamza, Mazad Chief Executive Officer, Talal Aref Al-Oraifi, Bahrain Volleyball Association (BVA) Chairman, Shaikh Ali bin Mohammed bin Rashid Al-Khalifa, Electricity and Water Authority (EWA) Chief Executive Officer, Shaikh Nawaf bin Ibrahim Al-Khalifa, HH Shaikh Salman bin Ahmed bin Mohammed bin Salman Al-Khalifa, Central Bahrain of Bahrain (CBB) Governor, Rasheed bin Mohammed Al-Maraj, Interior Ministry Assistant Undersecretary for Exits, Search and Follow-up Major-General Abdulrahman Saleh Sultan Senan AlDosari, Chief Executive of the National Bank of Bahrain (NBB), Jean-Christophe Durand, Dignitary Mohammed bin Shaikh Ishaq, Board Chairman of the National Bank of Bahrain (NBB), Farooq Yousef Khalil Al-Moayed, Chief Executive of the Primary Healthcare Centres, Dr. Jalila Sayed Jawad, Director General of the Royal Protocols, Mohammed Saif Shaikhan, Batelco CEO, Mikkel Vinter, Royal Protocols Chief, Major General Khalifa bin Ahmed Al Fadhala, VIVA Bahrain Chief Executive, Nezar Banabeela, Parliament Affairs Minister, Ghanim bin Fadhel Al-Buainin, Director General of Bahrain News Agency (BNA), Abdullah Khalil Buhejji, East Riffa Club Board Chairman, Shaikh Abdullah bin Khalifa bin Ahmed Al Khalifa, Assistant Undersecretary fo Construction and Maintenance Work at the Ministry of Works, Municipality Affairs and Urban Planning, Assistant Undersecretary for Radio and Television, Abdullah Khalid Al Dossari, Member of the Council of Representatives, MP Ahmed Sabah Al-Salloum, Secretary General of the Supreme Judicial Council, Ali Ahmed Al Ka'abi, Bahrain Combat Sports Council Chairman, HH Shaikh Salman bin Mohammed Al Khalifa, Bahraini Ambassador to France, Dr. Mohammed Abdul Ghaffar, Board Chairman of GFH Capital, Shaikh Ahmed bin Khalifa Al Khalifa, Chief Executive Officer of the National Health Regulatory Authority (NHRA), Mariam Adhbi Al-Jalahma, Bahraini Ambassador to Belgium, Dr. Bahiya Jawad Al-Jishi, Batelco General Manager of Corporate Communications and Corporate Social Responsibility, Shaikh Bader bin Rashid Al Khalifa, Deputy Chief Executive for Resources and Information Affairs at Bahrain Polytechnic, Shaikh Ali bin Abdulrahman Al Khalifa, Ramez Group Board Chairman, Ramez Mohammed Al Awadhi, Advisor to HM the King for Legislative Branch's Affairs, Dr. Mohammed Ali bin Al-Shaikh Mansoor Al-Sitri, Advisor to the Prime Minister's Court, Dr. Yasser bin Isa Al-Nasser, Deputy Southern Governor, Brigadier Isa Thamer Al-Dossari, Undersecretary of the Ministry of Foreign Affairs for Regional and GCC Affairs, Ambassador Waheed Mubarak Sayyar, Shura Council member, Saddiq Eid Al-Rahma, Supeme Council for Health (SCH) President, Lieutenant General Dr. Shaikh Mohammed bin Abdulla Al-Khalifa, Assistant Secretary-General of the Supreme Council for Youth and Sport (SCYS), Dr. Abdulrahman Askar, Cabinet Affairs Ministry Undersecretary His Highness Shaikh Isa bin Ali Al Khalifa, Shaikh Salman bin Ahmed bin Salman AlKhalifa, Montreal Owner, Ibrahim Abdulla Youssef Al Sheikh, Justice, Islamic Affairs and Endowments Ministry Undersecretary, Dana Khamis Alzayani, Assistant Undersecretary for Parliament Affairs, GOSI Board member, Dina Ahmed Al Fayez, Shura Council member, Dr Fatima Abduljabbar Al Kooheji, Chief Executive Officer of the National Bureau of Revenue (NBR), Rana Ebrahim Faqihi, Assistant Secretary-General for Relations, Media and Research Affair at the Shura Council, Dr. Fawzia Yousif Al Jeeb, Assistant Undersecretary for Follow-up and Coordination at the Ministry of Finance and National Economy, Mariam Adnan Abdulla Al-Ansari, General Coordinator for Media and Communications at the Office of the First Deputy Prime Minister (OFDPM), Sarra Ahmed Buhejji and many others.