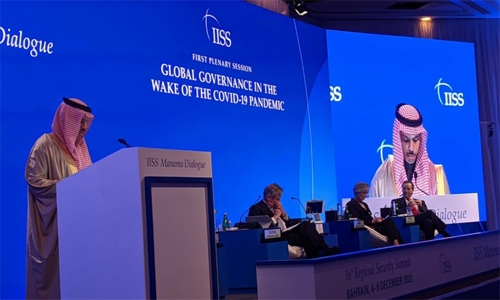 Saudi Arabia remains committed to diplomatic, multilateral frameworks
TDT | Manama
The Daily Tribune – www.newsofbahrain.com
Saudi Arabia is committed to diplomatic resolution of regional tensions as well as strengthening global cooperation and multilateral frameworks to tackle the challenges faced by the world today, Saudi Foreign Minister Prince Faisal bin Farhan Al Saud said.
"Saudi Arabia's Vision 2030 is complimented by commitment to regional security and stability as well as maintaining our meaningful global leadership goals. Vision 2030 broadly speaking remains on targets for achieving the set goals, thanks to tireless work by the Kingdom on various fronts," he said while speaking on the second day of the 16th Manama Dialogue 2020 during the first plenary titled "Global Governance in the wake of COVID-19 pandemic."
"We believe Vision 2030 will have a ripple effect throughout the region benefitting not only the lives and opportunities of the Saudis only but also bolstering the prospects of regional and global prosperity.
"We are dedicated to bringing economic, social and cultural transformation to the Kingdom that coincides with fostering a regional environment of vibrant stability and cooperation rather than conflict and violence.
"We can find solace in wider cooperation and working hand in hand with the global community in light of numerous challenges and hardship including provision of health supplies and getting stranded nationals back to home. The message of cooperation and partnership and solidarity is much needed as we move forward towards post-COVID-19 era," he said, reflecting on the challenges of the year 2020.
"This year has been quite unprecedented so far with challenges posed by the pandemic has left a mark on resilience and multilateral cooperation of the countries. Through collective action we have shown how international communities can come together during times of crisis," he added.
"I would like to take this opportunity to discuss the Kingdom's resolve to address some of the major challenges principally how to cope with the stress posed by the pandemic while working closely with global community to minimize the impact of pandemic through actions.
Prince Faisal said that Saudi Arabia adopted an approach at the government level to minimize the impact of COVID-19 which included allocating 47 billion riyals for health sector to take all the necessary steps towards readiness, secure medication, and provision of additional bed capacity and provide necessary supplies such as ventilators.
He said Saudi Arabia also heavily invested in technology and equipment for us to be able to conduct mass testing and contact tracing meaning our hospitals were able to cope with incoming patients without being over stretched. As for dealing with the financial impact of the pandemic on the Kingdom, it focused on reducing interest rates, supporting the private sector by financing, enhancing banking sector liquidity by 50 billion riyals and supporting small medium enterprises and postponing taxes and collection fees.
"The pandemic has made the Saudi task of leading the G-20 this year all the more challenging and exposed new vulnerabilities," he said.
He said referring to the G20 first virtual meet that the Kingdom was honoured to lead the G-20 members and invited countries. "In an immediate response we agreed to concrete commitments aimed at protecting lives and safely restoring economies. Together we committed to take the following measures; injecting more than 11 trillion dollars into the global economy, pledging 21 billion dollars to support the international fight against the pandemic including a commitment to finding a vaccine extending debt relief to countries most in need amounting to 14 billion dollars."
Speaking at the session were also South Korean Foreign Minister, Dr Kang Kyung-wha and German Federal Foreign Office Secretary Miguel Berger.