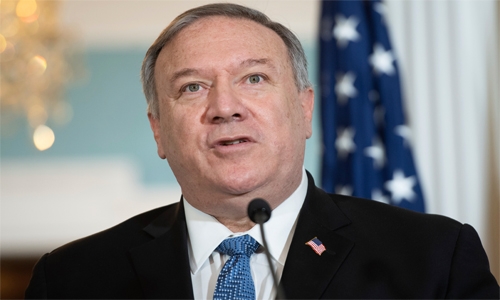 China never wanted to"behave normal": IISS Manama Dialogue 2020
TDT | Manama
The Daily Tribune – www.newsofbahrain.com
The IISS Manama Dialogue, the region's premier security summit opened yesterday with the US Secretary of State Mike Pompeo giving the opening address virtually.
In his opening remarks, Pompeo discussed regional issues, including but not limited to the Iranian nuclear deal, Abraham accords, Saudi-Qatari relations, and China's growing influence in the area.
Pompeo said the US had killed Qassem Soleimani to show Iran the red line. He added that the maximum pressure campaign has isolated Iran diplomatically, militarily, and economically with the help of Gulf allies.
Pompeo said he considered that the signing of the Abraham Accords at the White House in September would not have been possible without the full pressure campaign against Iran.
"The Chinese Communist Party never wanted to behave like a normal regime because as its core, it's not one. Like Iran, the party is a revolutionary relic,"
Pompeo has seriously warned Middle Eastern countries about allowing China's access to areas such as telecommunication.
"Our deep commercial ties have blinded us to China's malign activities," Pompeo added.
WHO failed
"The World Health Organisation has failed miserably in every country represented by today's audience in IISS Manama Dialogue 2020. It has become a political tool, not a scientific platform," Pompeo added.
Pompeo's closing message focused on not letting the Chinese Communist Party treat Middle Eastern countries like a vassal state.
Hopeful to resolve row
Moving on, he said the United States was 'very hopeful' that a Gulf row that has seen Saudi Arabia and its allies boycott Qatar for over three years would be resolved, adding that was the 'right thing' for the people of those countries.
"The Iranian regime is terrorizing its people and promoting terrorism around the world. Iran has reached a rate of 20% enrichment, which means a violation of the nuclear agreement. Iran's support for the Assad regime has deserted many of the Syrian people. Iran should act like a normal country away from its malignant behaviour," Pompeo added.
Pompeo emphasized that the US stands with Iraqi Prime Minister al-Kahdimi in his campaign against the Iranian-backed militias and the Lebanese people who reject Hezbollah's corrupt rule.
"[Bahrain] agreed to combat all forms of antisemitism, including anti-Zionism and the delegitimization of the State of Israel. The descendants of Ismael are standing with the descendants of Isaac," added Pompeo.
"We do not want ISIS to return to Iraq or Iran's domination of it either; we want to have a balanced military presence in Iraq," he added.
The secretary of state also said that Violence in Afghanistan is "unacceptably high" adding that Washington has asked the warring parties to "stand back and indeed stand down."
"I made clear to them that the violence levels can't continue while these negotiations go on and it won't work," Pompeo said.
"We've asked all of them to stand back and indeed stand down in that respect," he said, adding that he hoped that the sides can begin to address some of the "front end" issues, including a nationwide ceasefire.