Respect maritime borders!
TDT | Manama
The Daily Tribune – www.newsofbahrain.com
Bahrain is committed to exercise its sovereignty over its territorial waters and promote regional peace and security.
This came as the Cabinet praised the efforts of the Coast Guard in protecting maritime borders following the interception of two Bahraini Coast Guard vessels by Qatari Coast and Border Security patrol vessels in the territorial waters of the Kingdom on November 25.
The Cabinet, during its weekly virtual meeting held yesterday and chaired by His Royal High- ness Prince Salman bin Hamad Al Khalifa, the Crown Prince, Deputy Supreme Commander and Prime Minister, noted the restraint and professionalism demonstrated by Bahrain's Coast Guard personnel during the incident.
In this regard, the Cabinet welcomed the statements of the Council of Representatives and Shura Council for the need to respect applicable laws, international norms and relevant agreements, and to refrain from actions that threaten security and peace in the Arabian Gulf region.
The Cabinet also welcomed the work of the Supreme Council for Women on the occasion of Bahraini Women's Day, emphasising the need to continue pursuing greater women's advancement across all sections of society.
It praised HRH the Crown Prince and Prime Minister's direction to provide Formula 1 tickets to frontline health workers and their families in recognition of their great contribution to Bahrain's COVID-19 response. The Cabinet then commended Team Bahrain's success in hosting the Formula 1 Gulf Air Bahrain Grand Prix 2020 during unprecedented circumstances.
Youth empowerment programmes following the 2020 Youth Summit were also discussed in the Cabinet, and directed the creation of a task force to assess its recommendations and integrate them into government programmes.
The Cabinet welcomed Bahrain's recent success in winning five different Arab Government Excellence Awards, underlining the importance of further enhancing service excellence, in line with citizens' aspirations.
The Cabinet extended the Kingdom's best wishes to the UAE on the occasion of their 49th National Day.
A number of memorandums and proposed laws were discussed and approved during the meeting.
The Cabinet approved a memorandum from the Supreme Council for the Development of Education and Training regarding the development of the education sector.
It includes the restructuring of the Ministry of Education's work into two sectors: the first to oversee policy, strategy and performance, and the second to oversee school affairs in order to enhance the education system and educational services in public schools.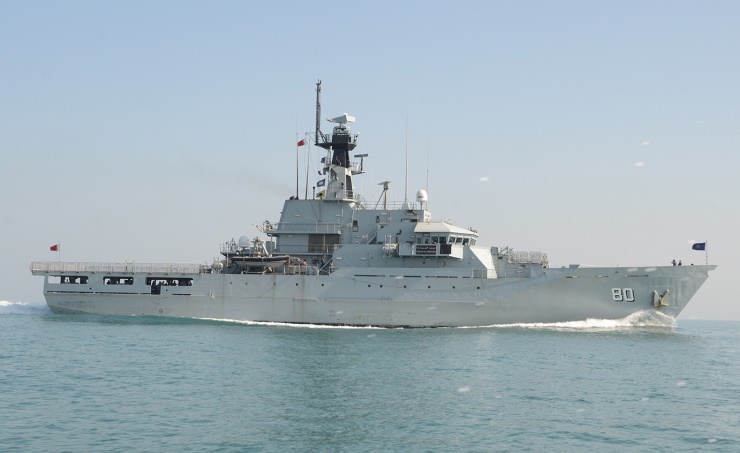 Bahrain's newly acquired patrol warship RBNS Al-Zubara is tasked to protect the nation's territorial waters