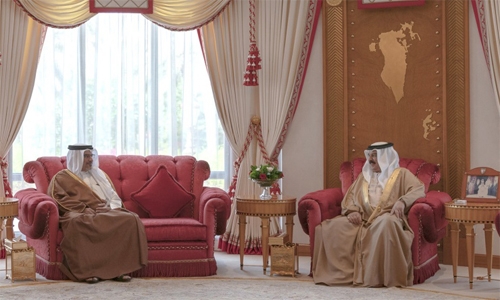 HM King wishes HRH Crown Prince and Prime Minister success in assuming patriotic responsibilities
TDT | Manama
The Daily Tribune – www.newsofbahrain.com
His Majesty King Hamad bin Isa Al Khalifa held a meeting with His Royal Highness Prince Salman bin Hamad Al Khalifa, the Crown Prince and Prime Minister, at the Al-Sakhir Palace today.
HM the King reviewed with HRH the Crown Prince and Prime Minister the positive and fruitful results of the 15th G20 Leaders' Summit, held virtually under the chairmanship of the Custodian of the Two Holy Mosques King Salman bin Abdulaziz Al-Saud, praising the summit's valuable initiatives and outstanding organisation, which will benefit the world
HM King Hamad congratulated the Saudi Monarch on the great success of the 15th G20 Summit, held for the first time in the region, confirming the leading role of sisterly Saudi Arabia thanks to the wisdom of King Salman and his distinguished leadership in supporting Arab, Islamic and global issues
HM the King praised the continuous achievements made by the Kingdom across various fields of national work thanks to the dedication of its loyal citizens, which consolidated its leading role, enhanced its global position and raised its banners at international gatherings.
HM the King also highlighted the efforts being made to enhance Bahrain's competitive position and achieve development goals in a way that meets the goals of the Bahrain Economic Vision 2030.
HM King Hamad also reviewed with HRH Crown Prince and Prime Minister the initiatives and efforts being made to combat the Coronavirus (COVID-19) pandemic and limit its spread, in addition to the steps taken to provide a safe vaccine for COVID-19.
HM the King stressed his keenness to ensure that the vaccine will be made available to all citizens and residents.
HM King Hamad wished HRH the Crown Prince and Prime Minister every success in assuming his patriotic responsibilities to achieve the aspirations of Bahrainis for more progress and prosperity.
HM the King praised HRH the Crown Prince and Prime Minister's close follow-up on and successful leadership of the national efforts to counter the pandemic, hailing the successes attained so far, and valuing highly the continuous dedication of the health competences, as well as the allied military and security entities and all the relevant government agencies.