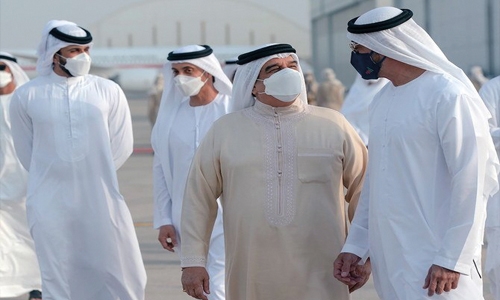 Bahrain may host Israel and Palestinians peace talks in Manama
TDT | Manama
The Daily Tribune – www.newsofbahrain.com
Bahrain has offered to host peace talks between Israel and Palestine, raising hopes anew of resolving the conflict - often referred to as the world's "most intractable conflict."
Bahrain's initiative is the latest in the series of attempts made to broker a two-state solution with an independent Palestinian state alongside the state of Israel.
Israel Hayom reported that the peace process received a new vigour with His Majesty King Hamad bin Isa Al Khalifa offering to host talks.
The new development came amid a tripartite meeting of HM the King with Jordan's King Abdullah II Bin Al-Hussein, UAE crown prince, His Highness Sheikh Mohammed bin Zayed Al Nahyan, in Abu Dhabi, Hayom reported. The main focus of the meeting was consolidating Arab front against Iran, future strategy for the incoming US administration in light of US president-elect Joe Biden's statement that he plans to bring Washington back to 2015 nuclear deal.
During their meeting in Abu Dhabi, a senior Bahraini Foreign Ministry official, Israel Hayom said, raised the possibility of Bahrain acting to renew negotiation between Israel and the Palestinian Authority.
The Bahraini official said HM the King proposed hosting a meeting of Israeli and Palestinian officials in Manama in an attempt to kick-start the stalled peace process.
Reportedly, the Jordan King backed the proposal, emphasising that he would do "whatever it could to renew peace talks between Jerusalem and Ramallah and restore ties of Abu Dhabi and Bahrain to Ramallah."
Palestine to restore envoys
Following which, Saudi Arabia's Al Arabiya and Ramallah's Shehab news agency reported that the Palestinian ambassadors to Bahrain and the UAE would be restored after they were called back over the two countries' normalisation of ties with Israel.
The announcement came shortly after Bahrain foreign minister Abdullatif al-Zayani called for the resumption of peace negotiations between Israel and Palestine based on a two-state solution during the first official Bahraini government delegation trip to Israel.
The ongoing Israeli occupation of the West Bank and the Gaza Strip has reached over 53 years.