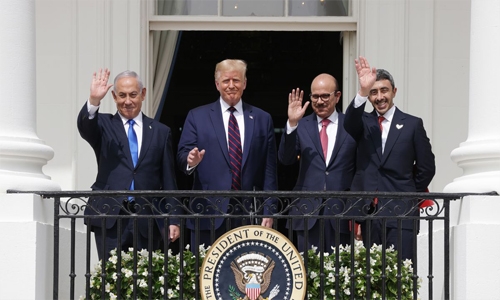 TDT | Washington
The Daily Tribune – www.newsofbahrain.com
US President Donald Trump's Middle East envoy Avi Berkowitz will lead a Middle East delegation to Bahrain and Israel this week to discuss expanded economic cooperation between the two countries, a senior White House official said. Berkowitz, part of a team led by Trump senior adviser Jared Kushner to help negotiate the Bahrain-Israel deal, will join Bahraini officials on the first-ever direct commercial flight from Bahrain to Israel.
The flight today will depart Manama and arrive in Tel Aviv, where the US and Bahraini delegations will participate in meetings with senior Israeli officials. Bahrain Foreign Minister Dr Abdullatif bin Rashid Al Zayani heads to Israel to meet Prime Minister Benjamin Netanyahu and visiting US Secretary of State Mike Pompeo.
Minister Al Zayani trip to Israel will formalise diplomatic ties with Israel. It will be the first-ever official visit by a high-level Bahrain delegation to Israel. Bahrain and Israel agreed to establish formal ties after the US brokered a deal on September 15. The UAE and Sudan have also formalised diplomatic relations with Israel.
In September, Bahrain and the UAE also signed memoranda of understanding to regulate cooperation in areas including politics, agriculture, commerce, information technology and visas. The visit comes to affirm Bahrain's firm and permanent position towards supporting the peace process in the Middle East region, and to explore economic opportunities and bilateral agreements with Israel.
The Trump administration has helped broker normalisation deals between Israel, the UAE, Bahrain and Sudan.