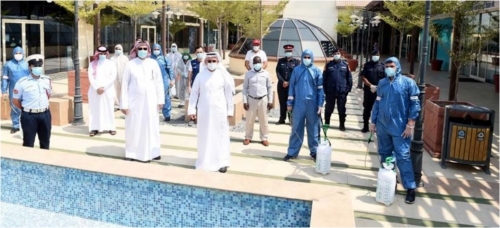 Northern Governor hails Team Bahrain's COVID-19 fight
TDT | Manama
Northern Governor Ali bin Al Shaikh Abdulhussain Al Asfour has praised the efforts made by Team Bahrain, led by His Royal Highness Prince Salman bin Hamad Al Khalifa, Crown Prince, Deputy Supreme Commander and First Deputy Prime Minister, in committing to combat the coronavirus (COVID-19) and mitigate its spread.
This came during his follow-up of the governorate's sanitisation campaign, carried out in solidarity with national efforts to address the pandemic. Deputy Northern Governor Brigadier Khaled bin Rabia Sinan Al Dossary was on hand along with other officials from the General Directorate of Civil Defence and the Northern Governorate Police Directorate.
The operations were conducted along a number of commercial complexes across the governorate. The Northern Governor praised the efforts of the volunteers who participated in the campaign, and expressed his appreciation for their service to the Kingdom and its people. The Northern Governor also stressed the importance of such activities to continue the fight against the pandemic, in accordance with precautionary and preventive measures issued by authorities.