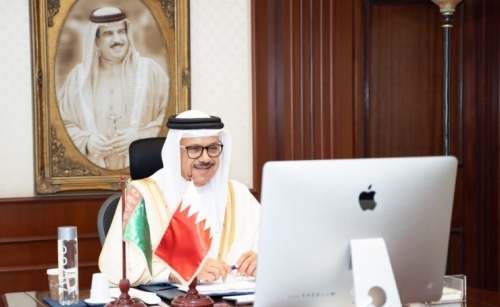 Bahrain, Turkmenistan discuss joint cooperation
TDT | Manama
The Foreign Affairs Minister affirmed Bahrain's keenness to enhance bilateral cooperation with Turkmenistan for the benefit of the two friendly countries and people in a high-level bilateral consultation session held yesterday. The meeting was chaired by the Minister of Foreign Affairs, Dr Abdullatif bin Rashid Al-Zayani.
The Turkmen side was chaired by Deputy Prime Minister and Minister of Foreign Affairs, Raşit Meredow, with participation from top foreign ministry officials from both sides. Dr Al-Zayani said that this meeting will contribute to strengthening the trade, investment, energy, tourism, culture and public health relations between the two countries.
The two sides also exchanged viewpoints on regional and international developments and discussed the efforts to contain the repercussions of the novel coronavirus (COVID-19) pandemic. They also stressed the importance of preserving the security and stability of the region, joining efforts to stop the ongoing wars, confront terrorist organizations, and achieving peace and stability.
The virtual session focused on ways to activate agreements signed between the Bahrain and Turkmenistan, highlighting the importance of continuing efforts, coordination and exchange of visits between the two countries at various levels.