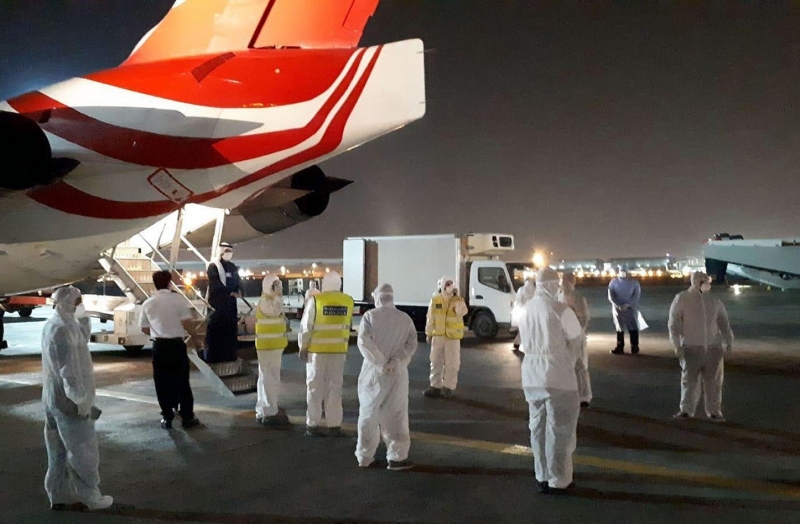 Evacuees brought back home
TDT | Manama
The second batch of Bahraini citizens evacuated from the Islamic Republic of Iran due to the coronavirus (COVID-19) outbreak arrived late last night, on a day that Bahrain announced its fourth death related to the pandemic.
The Ministry of Health announced on social media that the chartered flight carrying the repatriated Bahrainis touched down in the Kingdom after being delayed for nearly two nights. It was originally scheduled to reach Bahrain late on Monday night but its departure was put off due to logistical reasons. It is understood that a total of 61 evacuees were on the plane.
Following their arrival, the ministry administered tests under the supervision of a specialised medical team. Based on these results, they will be transferred either to a precautionary quarantine centre or to isolation and treatment centres, according to the guidelines and standards approved by the World Health Organisation (WHO).
The Health Ministry's evacuation procedures are in full accordance with medical and internationally approved measures, and are a part of the ministry's plans in order to safeguard the well-being of its arriving citizens and their families. Earlier this month, the first group of repatriated Bahrainis numbering 165 in all returned to the Kingdom.
From that group, a total of 77 tested positive for the coronavirus. The ministry is continuing its efforts towards intensifying all precautionary and preventive measures to contain and prevent the further spread of COVID-19. Meanwhile, the ministry announced yesterday the death of a 78-year-old Bahraini national who was a registered active case of the coronavirus.
The deceased male was suffering from underlying and chronic health problems. He had contracted the virus after being in contact with another active COVID-19 case, after which he was placed in isolation and received extensive 24-hour treatment from a specialised medical team. The Health Ministry expressed its heartfelt condolences to the individual's family at this difficult time.
The ministry also highlighted that, except for one case, all other 224 active COVID-19 cases remain stable and all patients continue to receive aroundthe-clock treatment from a specialised medical team following guidelines provided by the WHO.