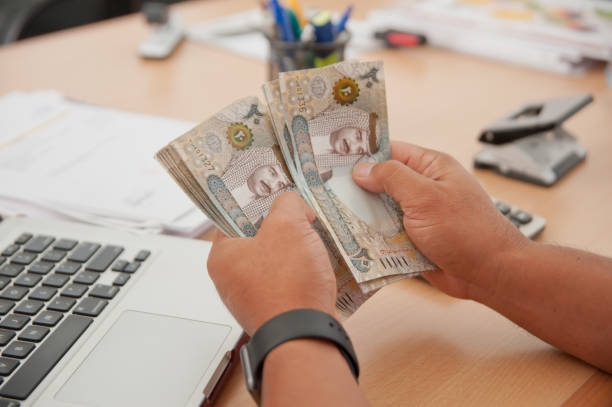 When the currency goes 'viral'
TDT | Manama
As the outbreak of novel coronavirus continues to batter global economy, Bahrain's central bank has implemented new measures to contain the virus spread. Bahrain's top bank said yesterday that it will deep clean currencies and destroy potentially infected cash. The Central Bank of Bahrain (CBB) will now literally launder its dinars in the main vault by disinfecting it with ultraviolet devices and will isolate banknotes received by banks for a period of 72 hours.
The CBB, in a circular seen by the Tribune, said it will also issue new banknotes to make up for the supply. Other measures include destroying five dinars, one dinar and half dinar denominations, deposited by the banks, as there are high chances that they might have come from high-risk infection areas. The central bank has also instructed money transfer companies here to wear protective gloves during daily withdrawals and deposits. The new measures indicate the Kingdom's financial system's full support in preventing the outbreak which began in Wuhan in December and has spread all over the world.
In March 1993 new security features were added to the Bahraini Dinar to develop the currency and protect it from the counterfeit processes. With that, a new family of banknotes were issued BD20, BD10, BD5, BD1 and BD1/2 along with the coins, 100fils, 50 fils, 25 fils, 10 fils and 5 fils. After the issue of the Central Bank of Bahrain (CBB) Financial Institutions Law in 2006, the CBB issued the fourth issue of Bahraini Dinar, in March 2008, containing banknote denominations BD20, BD10, BD5, BD1 and BD1/2, with the coin denominations unchanged.
Similar measures in China
People's Bank of China had earlier implemented similar measures to disinfect its cash pile and then storing it for seven to 14 days before releasing it to customers. It also suspended physical cash transfers between hard-hit provinces, to limit the possibility of virus transmission via cash.
A spokesman of the World Health Organisation has earlier said that since money changes hands frequently, it could pick up all sorts of bacteria and viruses and things like that. "We would advise people to wash their hands after handling banknotes, and avoid touching their face. … When possible it's a good idea to use contactless payments." CNN, in an article, pointed out that the lists of things found on US dollar bills include DNA from pets, traces of drugs, and bacteria and viruses citing a 2017 study.
The finding it said demonstrates "how money can silently record human activities, leaving behind so-called molecular echoes." A similar study also recovered traces of DNA on ATM keypads, reflecting the foods people ate in different neighbourhoods