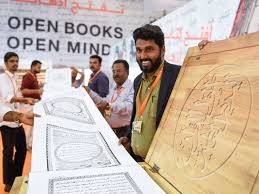 Spotlight on longest handwritten Quran as BKS Bookfest kicks off
BKS International Bookfest 2020 kicked off yesterday with the objective of bringing art and literature enthusiasts the best of Indian literature, culture, art, and dialogue. One of its star attractions this time is an attempt to break a world record.
The first Indian member of the International Society of Caricature Artists, M Dileef, is inching closer to his goal of breaking the world record for the longest handwritten Qur'an.
Having garnered international attention when he began this feat at the Sharjah International Book Fair 2019, M Dileef has a litany of firsts in his cap. His most noticeable feats include creating the world's largest badminton racquet in 2005, for promoting sports awareness, conception, and creation of the world's largest bicycle for UAE National Day festivities, earning him a place in the Arabian Book of World Records.
This marvellously talented individual also holds a place in the Limca Book of Records and the Indian Book of Records for the largest Gandhi idol (3,333 feet). M Dileef started his career as an art teacher, and created socio-political cartoons for leading magazines and periodicals.
He is now the author of three books – 'Vicharana', 'Thalavara', and 'Dileef cartoons', and is the Chairman of Dileef Art Gallery, boasting of over 12 art galleries around the world!
Calling it his artistic tribute to the spiritual pursuit and studies of humankind, the multitalented and supremely gifted artist is set to present three years' worth of effort that has resulted in 1,000 meters of beautifully handwritten Qur'an, to the world.