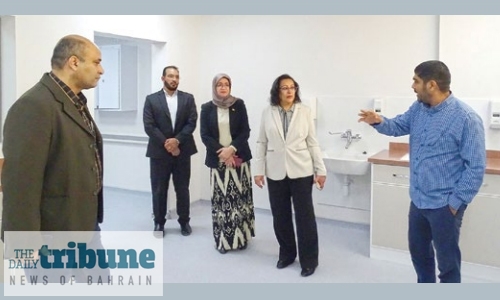 Jidhafs Maternity Hospital project 'on track'
Health Minister Faeqa Al Saleh yesterday made an inspection visit to Jidhafs Maternity Hospital, where she was briefed on the progress of work.
The project expenditure is estimated to be about BD222,200 and it aims to provide best health services to patients.
The maintenance work began in October 2018, and included the expansion of the patient admission area, the separation of the emergency door from the patient admission unit, the renovation of the operating room, the renovation of labour rooms consisting of seven beds, and the renewal of nursing and observation rooms for newborns.
In addition to that, the storage and waste rooms are being renovated, the bathrooms are renewed, and all engineering and technical services, including air conditioning, electrical and mechanical services, communications and lighting, are being replaced.
The revamped hospital is expected take a little burden off Salamaniya Medical Complex. The Health Minister thanked the workers and contractors for their efforts to complete the project on time.