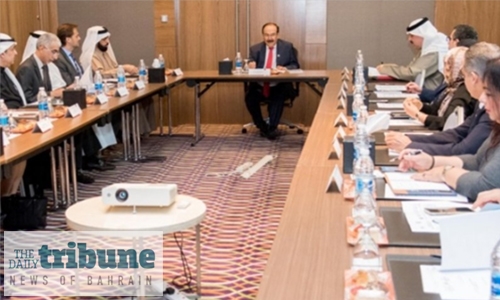 Renewable energy projects discussed at meeting
A committee in charge of following up the plan of the national committee for renewable energy and power efficiency held its fifteenth meeting.
Sustainable Energy Authority (SEA) President Dr Abdulhussein Mirza chaired the session, which was also attended by senior officials representing ministries and government departments.
The UN Resident Co-ordinator in the Kingdom of Bahrain was also present. Dr Mirza hailed efforts being exerted by different government departments, which play a key role in the achievements in the fields of renewable energy and power efficiency.
The meeting focused on a number of global financing mechanisms that can be used to support renewable energy and power efficiency projects in Bahrain, including the mechanisms to take advantage of the Green Fund to address climate change.
The representative of the National Oil and Gas Authority (NOGA) delivered a visual presentation highlighting the possibility of establishing national investment portfolios for promoting sustainable energy.