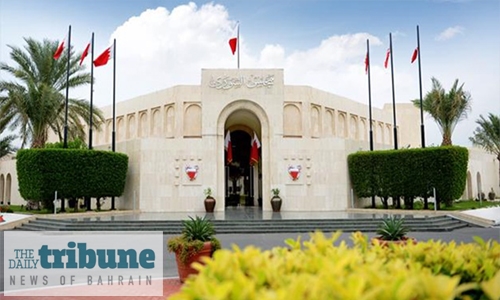 Shura endorses Reserve Force Decree-Law
Members of Shura Council, the second branch of Bahrain's Legislative Authority, yesterday voted fort a decree-law that stipulates the formation of a reserve force of Bahrain Defence Force (BDF) and regulates wages and allowances for members of the BDF, volunteers, and civilians.
The approval came around two weeks after the majority of members of the Council of Representatives approved the decree law and referred it to the Shura Council. Council members yesterday voted for the decree law during their regular weekly meeting, headed by Shura Council Chairman Ali Saleh Al Saleh.
In their statements during the session, the members expressed full support to the decree law, as they reaffirmed that it represents a key factor to support the security and stability of the Kingdom and its people. As reported earlier, the legislation obliges private sector establishments of paying 30 per cent of wages of individuals conscripted in the military reserve force, while it mandates the public sector of paying the salary of the reserve force member who is called to serve in the force in case of emergency, war, or general mobilisation measures.
The decree-law also stipulates that private sector establishments shall contribute to paying the wages of the members of the force for one year, while BDF will bear the disbursement of salaries if the soldiers continue serving in the force for more than one year. A military reserve force is a military organisation composed of citizen-soldiers of a country who combine a military role or career with a civilian career.
These individuals consist of retired military personnel, as well as civilian volunteers. They are not always kept under arms and their main role is to be available to join the army and fight when their military requires additional manpower in cases of war or emergencies.