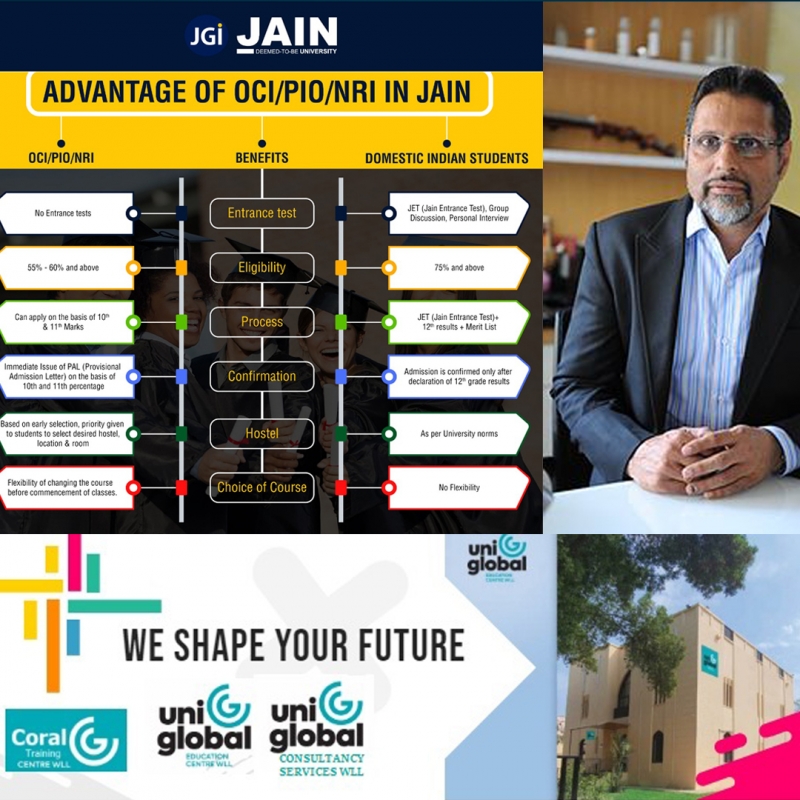 UniGlobal ties up with S P Jain School of Global Management, Jain University
TDT/Manama

UniGlobal Education Centre, a private educational services centre that assists Bahrain residents in getting admissions at reputed institutions abroad to pursue their higher education, recently teamed up with Jain (Deemed-to-be University), Bangalore and S P Jain School of Global Management.
Both these Universities are well known for the quality education they provide through their courses for young aspirants seeking higher education. UniGlobal, which had a humble beginning in 2016 has spread its wings in the last three years. As of today, it is functioning from Segaya and has another centre named Coral Education Centre in Umm Al Hassam.
S P Jain School of Global Management is a Higher Education provider in Singapore, Australia, Dubai and India. Their undergraduate programmes provide higher studies to obtain Bachelor's Degree for a fast- paced career in business. SPJ has campuses in Dubai, Mumbai, Singapore and Sydney. Students will be able to complete their studies in all the campuses during the course of their study. During the course, a student can avail the opportunity to study from one or more of these campuses before completing the programmes.
Jain (Deemed-to-be University), Bangalore, India has undergraduate programmes to obtain Bachelor's Degree, Postgraduate Programmes to obtain Master's Degree and Research Programmes to obtain MPhil and Doctorates. The University provides scholarships and financial aid to deserving students. Quality education is provided for the holistic development of the personalities by giving attention to scholastic as well as non- scholastic activities. The University also provides residential facilities.
Dr Chenraj Roychand, the Founder President and Chairman of JGI Group, is visiting Bahrain on 7th February, 2020 to address a seminar and to interact with the ambitious youngsters of Bahrain, wishing to pursue higher education in Jain (Deemed-to-be University). He will explain the facilities and courses offered, the admission process etc. and will also clear their doubts during the interactive session. Dr Sridhara Murthy, Director of Jain (Deemed-to-be University) and Ex ISRO scientist and Planning Commission of India along with Mr C G Krishna Das, Chancellor of Jain University and Ex-CEO of HAL also will attend the seminar and answer the questions of parents and students.
The highlights of Jain (Deemed-to-be University) are the latest trending courses, like information technology, Data Analytics, Big Data mobile application, Cyber security, IOT, Artificial Intelligence, Robotics Process automation, Machine learning, Forensic science as a carrier and B.Com with ACCA. Chairman of UniGlobal Education Centre, Mr J P Menon said: "By joining hands with quite a few globally recognised institutions, UniGlobal Education Centre is picking pace in actively involving in the development of Bahrain by helping its youth to get placements in their desired institutions in their desired country."
Mr Rajkumar Jain, university representative will be available at Uniglobal till 16th February 2020, for Career Counselling and Spot Admissions. Parents of ambitious students should not miss the opportunity to interact with him. Contact 17344971/2 or 32332708/09 to book your timings.