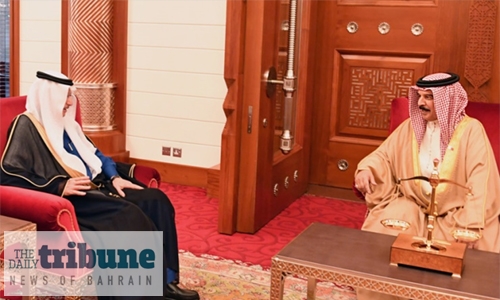 Bahrain's unwavering support to OIC stressed
His Majesty King Hamad bin Isa Al Khalifa commended the pivotal role of the Organisation of Islamic Cooperation (OIC) in advocating the issues that concern the Islamic nation, strengthening solidarity between member countries, coordinating their stances, unifying their efforts and defending the true image of Islam, based on tolerance and moderation.
He made the statement as he received yesterday, at Al Safriya Palace, OIC Secretary-General Dr Yousef bin Ahmad Al Othaimeen, marking his visit to the Kingdom of Bahrain. HM the King welcomed Dr Al Othaimeen and congratulated him on the OIC 50th anniversary, lauding the pan-Islamic organisation's important achievements.
He also commended Dr Al Othaimeen's dedicated efforts to enhance the OIC work procedures and performance and strengthen co-operation between Islamic countries in the economic, cultural, scientific and religious fields. HM the King reiterated Bahrain's unwavering support to the organisation and commitment to its noble principles to continue its role in consolidating joint Islamic work towards achieving the goals and serving the interests of its member countries and peoples.
The meeting focused also on reviewing aspects of cooperation between the Kingdom of Bahrain and the Organisation of Islamic Cooperation (OIC), in addition to other key Islamic and regional issues. Dr Al Othaimeen expressed deepest thanks to HM the King for the warm welcome and good hospitality, hailing Bahrain's pivotal role, led by HM the King, as well as its contributions to Islamic issues and the OIC activities on all levels.
He lauded Bahrain's initiatives to nurture the values of tolerance and moderation and build bridges between the followers of different religions and cultures.