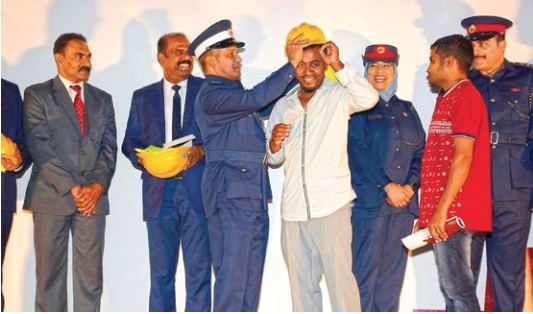 Key event stresses safety of labourers at workplace
Thousands of workers took part in a campaign held to raise awareness on health and safety at the Indian Club. The event was organised by the Nationality, Passports and Residence Affairs in association with Labour Market Regulatory Authority.
Labour Ministry officials stressed that the Kingdom has strict safety regulations in place that meet International Labour Organisation as well as other established occupational and health safety standards. Workers, who attended the event, were given detailed information on various standards and policies by authorities. Bahrain's midday outdoor work ban, which began on 1 July and ended on 31 August, 2019, recorded a compliance rate of 99.5 per cent, according to the country's Minister of Labour and Social Development, Jameel Humaidan. Mr Humaidan earlier pointed out that the Labour Ministry carried out 11,235 surprise and regular inspection visits to outdoor sites during the period.
During the two-month period of the work ban, 56 violations involving 148 workers were spotted by the ministry, Bahrain's state news agency, BNA, reported. The minister said that legal action would be taken against violators of the work ban, implemented to protect workers from the dangers of working outdoors during extreme summer conditions. Commenting on the programme, which has been implemented every year in Bahrain following the issuance of Edict 3/2013, Humaidan said the ministry had noted an increasing rate of compliance among employers, some of which had voluntarily decided to extend the mid-day break.