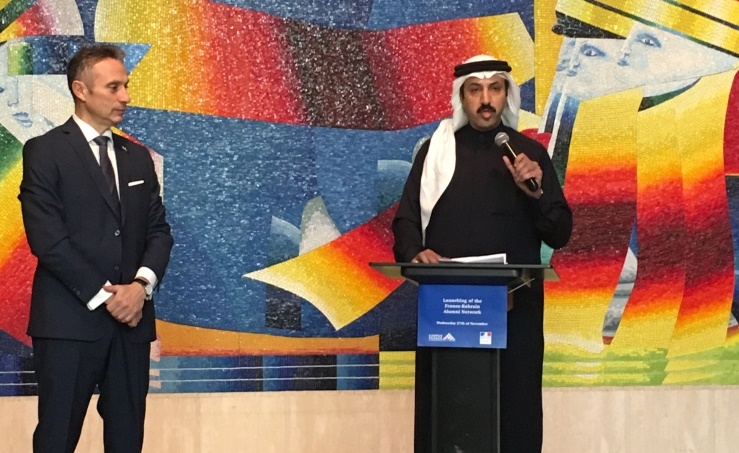 Bahrain-France Alumni Network launched
The Bahrain-France Alumni Network has launched to provide a platform for France-educated Bahrainis to reconnect and establish networking and partnerships.
Launched at a reception at the residence of the French ambassador in Bahrain where Bahraini alumni of French universities and ecoles convened, the network focuses purely on scholarship recipients.
Speaking at the launch, French Ambassador to Bahrain Jérôme Cauchard hailed the launch of the network as a milestone for the France university-educated Bahrainis and for relations between Bahrain and France.
"The first Bahraini students arrived in France in the 1960s, even before the independence of Bahrain," he said.
"We are proud that the alumni are rich in their diversity, diversity of generations, the disciplines studied and the places of their education. France offers an education of high quality, open to the world, and you are an example of that. Our country welcomes every year 350,000 international non-European students, including about 30 Bahrainis. This makes our country the first non-English speaking destination in the world for international students, which reflects the quality of the programs offered and their international recognition."
The ambassador stressed that the cost of studying in France is particularly low compared with that of other Western countries and that the cost of living does not have to be necessarily Parisian since the French university fabric covers more than 60 cities.
"You have all studied or been trained in France, you have lived in France, you have come to know my country and you have, I know, a strong attachment to France, its values, its language and its culture," Cauchard said. "The alumni network will enable you to stay connected together, through networking evenings, conferences, cultural events, and social activities."
In his speech, Ministry of Foreign Affairs Undersecretary for International Affairs Dr. Shaikh Abdullah bin Ahmed Al Khalifa hailed the network as an important platform for France-educated scholars to reconnect with their peers and for Bahrain and France to boost their relations and partnerships.
"The network enables the development of alumni, ensuring that their links with France remain close, alive and active, whilst also assisting in increasing professional opportunities available to alumni, developing meetings and events among many other important activities, including prestigious partnerships with an array of French universities," Shaikh Abdullah said.
"It brings me great pleasure and pride to see the launch of this important network in Bahrain, and I know it will prosper here on our shores. I can only see it developing and become larger as more and more Bahrainis choose France for their education. It will represent the most important type of ties any country can have with another- that is the ties between alumni, between people, between families and between friends."
Shaikh Abdullah said that no greater exercise that serves the two countries' mutual interests more than the exchange of students.
"It allows Bahrainis to live in France, whilst enriching themselves with the avant garde education from establishments that date back over 900 years. Renowned names such as La Sobronne, Paris Sciences et Lettres and the Ecole Polytechnique are but a few of the many famous institutions, that collectively represent one of the world's oldest- and greatest- educational traditions. Education enriches peoples and advances civilizations. I would like to thank the French Republic for welcoming Bahraini students into the hallowed halls of France's great universities with open arms."
Education is just but a facet of the deep, warm relations between Bahrain and France that in the modern era date back 177 years to 1842, he added.
"Famed French jeweler Louis Cartier made many visits to Bahrain, the first of which was in 1911, to personally procure the best pearls for his finest creations. This meant that pearls were Bahrain's first main export to France, pre-dating the discovery of oil," Shaikh Abdullah said.
"In the field of education, the University of Bahrain has offered French courses since 1987, only one year after the university's inception. One decade ago, His Majesty King Hamad bin Isa Al Khalifa issued a royal decree to teach French as a priority discipline, with the hope of creating a tri-lingual generation of Bahrainis, who can be part of the 300 million strong Francophone community."