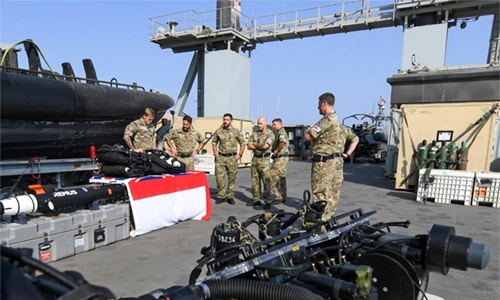 On a mission to 'protect navigation'
With over 5,000 personnel, 40 vessels and 17 aircraft from 50 countries, nations in the GCC are witnessing the formation of an unprecedented global alliance, determined to 'protect navigation' in the world's most important oil artery.
The move, spearheaded by Washington, aims to ensure freedom of maritime navigation and international trade follows the recent attacks on commercial shipping vessels in the region from May, ratcheting up tensions. Bahrain, which hosts the US Navy's Fifth Fleet, joined the US-led naval coalition in August. Saudi Arabia and the United Arab Emirates followed suit in September.
Three-week exercise
Hosted by the US Naval Forces Central Command at NSA Bahrain in Manama, the three-week International Maritime Exercise (IMX) is also the second-largest of its kind event. The exercise, which started on October 21, demonstrates global resolve in maintaining regional stability and free flow of commerce from Suez Canal south to the Bab-el-Mandeb through the Strait of Hormuz to the Northern Arabian Gulf.
This iteration of IMX, the sixth of its kind, also serves as a strong deterrent to Iran which has resorted to feeding its centrifuges with uranium gas furthering itself from the 2015 nuclear agreement with major powers. IMX first edition was conducted in 2012 and the most recent in 2017.
The US invited media to see part of the IMX, held in four phases for staff build-up and training, seminars and table-top discussions, At-sea Fleet Training Exercise and hot-wash and redeployment of forces. Vice Adm. Jim Malloy, commander, US Naval Forces Central Command, US 5th Fleet, Combined Maritime Forces earlier said, "This year's iteration is the largest yet, expanding in size and geography; including all essential elements of maritime security operations."
Phase 1 Manama
During Phase 1 of International Mine Countermeasures Exercise (IMCMEX), a visit, board, search and seizure (VBSS) seminar was conducted in Manama. This phase included up to 60 members who were broken into four terms for further hand-on exercises as well as role-play during practical exercises to learn from one another.
"Previous exercises relied solely on the surface, air, and undersea mine countermeasures (MCM) operations. Though this year's focus has broadened, the three areas of MCM operations are as vital as ever to the mission of keeping international sea lanes clear of mines and seaborne improvised explosives," according to US Naval Forces Central Command statement.
Naval coalition
Washington floated the idea of a naval coalition in June, after multiple attacks on ships in the Gulf. The plan was to have each country providing a military escort for their ships, with the US military providing a security backstop, monitoring the zone of operations and providing command and control.
"This is the first time we are taking part in the IMX," the head of a Saudi naval de-mining team, Ali Bin Shreidi, said aboard the Cardigan Bay, a British Royal Fleet Auxillary landing ship 40 miles (65 kilometres) off Bahrain's coast. The officer and his three-member team were taking part in order "to increase our capabilities and share our expertise in fighting mines, to protect navigation," he said.
Iranian mines?
The US Navy alleged that a mine resembling Iranian weaponry was used in an attack on the Japanese-owned Kokuka Courageous tanker, targeted as it passed through the Gulf of Oman. Then in July, Iranian Revolutionary Guards seized a British-flagged oil tanker, holding it for more than two months before releasing it.
"One of the biggest reasons for us being out here is to build international relations," said US Navy lieutenant Jonathan Phares who was among 300 personnel from the US, France and the Gulf on the Cardigan Bay. Those aboard showed off diving gear, underwater imaging kit and speed boats during a tour of the gun-metal grey vessel, while others demonstrated mine detection equipment.
The United Kingdom and Australia are the main Western countries to have agreed to send warships to escort commercial shipping in the Gulf.