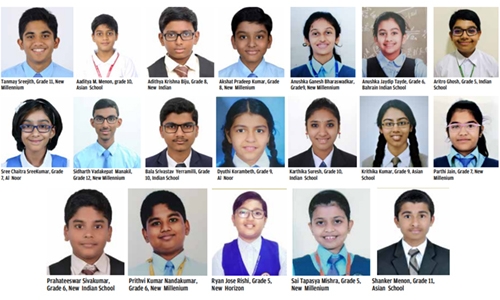 Grooming science talents of the future
This year's 'Sastra Pratibha Contest 2019', an inter-school science talent search examination has found 19 winners (Sastra Pratibhas). Renu Yadav, Second Secretary, Embassy of India announced the results of the two-level contest. Sastra Pratibha Contest (SPC) initiated by Vijnana Bharati has been conducting this contest for years among the students in India and lately in all GCC countries.
Apart from 19 Sastra Pratibhas, the contest produced 63 "Science Camp Qualifiers", 156 "A+" graders and 666 "A" grade winners. The Sastra Pratibhas will have the unique opportunity to visit prominent scientific establishments in India and interact with senior scientists working there.
The contest in Bahrain, in its first level on 30th May 2019, saw the participation of 11,499 students from eight schools in Bahrain from which 82 students scoring above 80 per cent entered the second level contest. The second level, conducted as a science camp with a quiz, scientific reasoning, audio-visual, Extempore and Viva-voce rounds, was held at the Asian School Bahrain premises.
Mohini Bhatia, Attache (education), Embassy of India, Dr Ravi Warrior, Dr Babu Ramachandran, Dr Vinod Manikkara, School coordinators and SIF officials were present at the Press conference. Embassy of India congratulated the winners.
Science India Forum Bahrain and National Science Movement of India jointly organised the event with the support of Embassy of India Bahrain and Indian Space Research Organisation. The contest was the biggest science talent search programme held on the island.