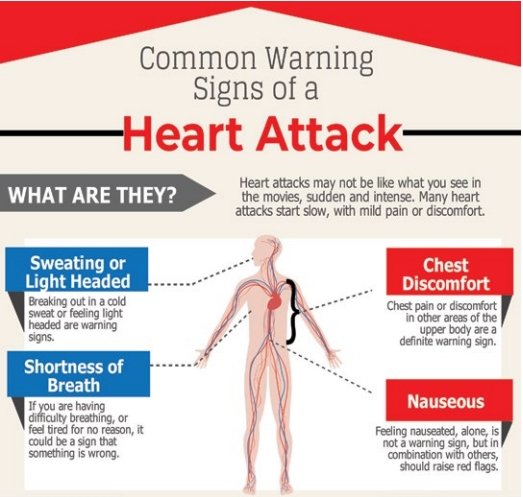 Healthy lifestyle urged as cardiac attack deaths 'rise among expats'
Health specialists and physicians have urged people in the Kingdom to follow a healthy lifestyle amidst rising cases of heart attack deaths among the expatriates. Over 50 expatriates have died after suffering heart attack in the past few months, according to health sources. According to social workers, this September has already seen 5 heart attack deaths among the expatriates. While seven deaths were reported among expatriates in August and July months, ten died in February this year after suffering heart attacks.
Speaking to Tribune, Dr Shaymaa El Sayed, senior cardiovascular specialist at Shifa Al Jazeera Medical Centre, said lifestyle diseases like diabetes and hypertension are often leading to heart attacks. "A heart attack occurs when the flow of blood to the heart is blocked. The blockage is most often a buildup of fat, cholesterol and other substances, which form a plaque in the arteries that feed the heart (coronary arteries)," she pointed out.
The common symptoms of cardiac arrest include pressure, tightness, pain, or a squeezing or aching sensation in your chest or arms that may spread to your neck, jaw or back, nausea, indigestion, heartburn or abdominal pain, shortness of breath, cold sweat, fatigue and lightheadedness or sudden dizziness. Men aged 45 or older and women aged 55 or older are more likely to have a heart attack than younger men and women, the doctor added. "Stress, use of tobacco products, high blood pressure, high blood cholesterol or triglyceride levels, obesity, diabetes, metabolic syndrome, lack of physical activity are all common reasons that could lead to heart attack."
"Taking medications can reduce your risk of a subsequent heart attack and help your damaged heart function better. Continue to take what your doctor prescribes, and ask your doctor how often you need to be monitored. "Maintain a healthy weight with a heart-healthy diet, don't smoke, exercise regularly, manage stress and control conditions that can lead to heart attack, such as high blood pressure, high cholesterol and diabetes," she added.
Other health suggestions to prevent heart attack include drinking two litres of water every day, less consumption of fatty food, a decent sleeping pattern (at least eight hours) apart from eating lots of vegetables and fruits. Health experts have also urged all expatriates to make use of free health check-up campaigns carried out by different social organisations and hospitals.