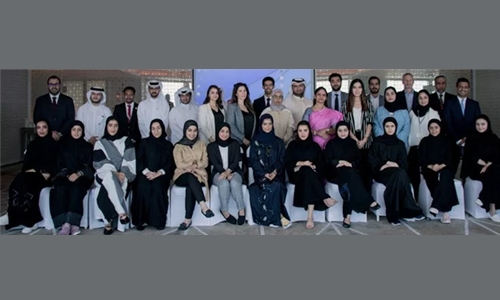 FinTech series hosts workshop for interns
The FinTech series, in partnership with Andra Public Relations and the Capital Club, hosted a specialised FinTech Workshop for Al Salam Bank's 13th batch of summer interns. The 3-hour workshop included four speakers from various organizations to highlight certain elements within the Bahrain FinTech Landscape.
Speakers included Tareq Noor; Senior Executive, Financial Services at the Bahrain Economic Development Board, Shanthini Raja; CEO of Rsquare, Dylan Miles; Chief Architect at Innervate Technology Solutions Ltd. and Ameera Mohammed; Senior Analyst at Bahrain FinTech Bay.
The workshop included 26 young Bahraini university students and Al Salam's Management team from the Human Resources department. The Bahraini students are part of Al Salam's 13th annual summer internship program, a training and development initiative designed to shape the future leaders of Bahrain's banking industry.