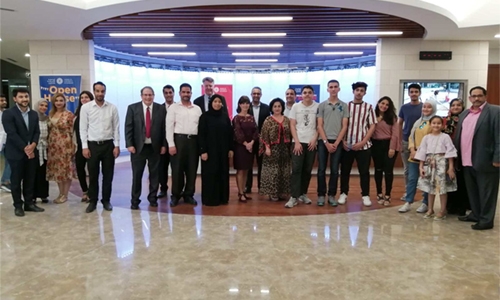 AUBH hosts open house at new Riffa campus
The American University of Bahrain (AUBH) hosted its first open house event at its new Riffa campus. The event was open to the public with the aim of providing students, parents, and the community an appreciation of American-style education and experience first-hand the architectural beauty of the campus as it prepares for its opening in September 2019.
The event took place on Saturday the 17th of August from 3-7 p.m. where students and parents were taken on a tour of the campus and attended micro-sessions taught by regular faculty members. They were given the opportunity to participate in the multi-cultural environment, personalized mentorship, and active campus life that AUBH will offer.
The event also included a number of fun-filled activities such as games and competitions, including a virtual reality experience, Pictionary and more. Parents had the opportunity to express their concerns and ask questions in regularly-scheduled Parent Workshops. The event also included on-going entertainment, free American-style food, a picture booth, and a station to customize free AUBH t-shirts.
Founding President of AUBH, Dr. Saxton expressed her enthusiasm, stating, "The event was a huge success and we were very happy with the turnout. This was our first chance to welcome the community, potential students, and our inaugural students on campus. It will provide them a glimpse of what AUBH stands for and what it represents." "Our beautiful state-of-theart campus was designed to foster interaction and collaboration among students, faculty, and the community.
The architects, planners, and now our faculty have accomplished just that," she added. During the event, attendees also got the opportunity to win giveaways. Additionally, three scholarships were awarded to students at the event-closing raffle.