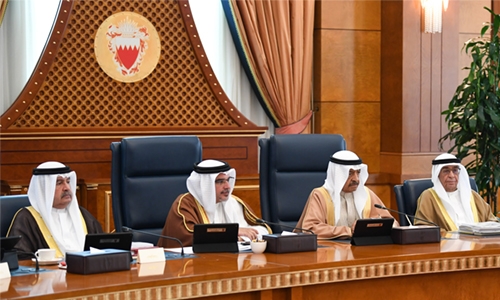 Cabinet welcomes Modi visit
The Cabinet chaired by His Royal Highness Prime Minister Prince Khalifa bin Salman Al Khalifa in the presence of His Royal Highness Prince Salman bin Hamad Al Khalifa, the Crown Prince, Deputy Supreme Commander and First Deputy Premier, yesterday welcomed the upcoming visit of the Indian Prime Minister Narendra Modi and his accompanying delegation to the Kingdom.
The session stressed the importance of the visit in supporting the solid friendly Bahraini-Indian relations and bolstering bilateral co-operation at various levels. Mr Modi's visit to Bahrain on August 24 and 25 will be a remarkable milestone in Bahrain-India ties. During the visit, the prime minister will address the Indian community. The Indian Embassy in Bahrain in a tweet asked Indians to register to attend Mr Modi's public address.
Indian Prime Minister would also be holding talks with HRH the Premier to discuss bilateral relations and also regional and international issues of mutual interest. His Majesty King Hamad bin Isa Al Khalifa will be hosting a banquet dinner in honour of Indian prime minister. Among other things, the Cabinet welcomed the signing of the Constitutional Document in Sudan, describing it as a historic move towards achieving peace and reconciliation, as well as for safeguarding Sudan's security and stability to meet the aspirations of the brotherly Sudanese people for a better future.
HRH the Prime Minister gave directives to the Justice, Islamic Affairs and Endowments Ministry to cooperate with the Bahrain Bar Society (BBS) and co-ordinate with the Legislative branch to issue a new world-standard law on the legal profession. HRH the Premier also instructed the same ministry to remove all obstacles faced by lawyers, especially regarding the execution of court rulings.
The Justice Ministry was also requested to co-ordinate with the judiciary to develop work with lawyers regarding the procedures of the Execution Directorate, and the need to develop the current electronic system and increase its efficiency. The Prime Minister gave orders to develop the current scholarship programme and its work mechanisms, and entrusted the Supreme Council for the Development of Education and Training with the matter. HRH the Premier gave directives to complete the service needs of the Khalifa Town and to speed up the construction of a health centre there.
The Prime Minister also gave instructions to complete the service needs in Salman Town, allocate a site to establish a health centre in Budaiya, develop infrastructure in Eker and Zallaq, meet the housing needs in Jid Al Haj, Jannusan and neighbouring villages, and study the establishment of a traditional market in Damistan. The Ministerial Committee for Infrastructure and Development Projects was requested to follow up on the implementation of HRH Premier's directives to meet service needs in the above mentioned regions.