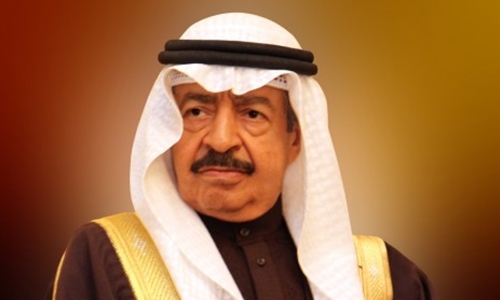 HRH Premier's peace initiatives hailed
His Royal Highness Prime Minister Prince Khalifa bin Salman Al Khalifa received a cable of congratulations from Secretary General of the Gulf Co-operation Council (GCC) Dr Abdullatif Al Zayani on the UN's proclamation of April 5 as the Universal Day of Conscience in response to His Royal Highness's initiative to encourage peaceful solution of conflicts.
The GCC Secretary General expressed pride in the national achievement, which demonstrates the great respect and high international status enjoyed by HRH the Prime Minister. He added the accomplishment also reflects HRH the Premier's keenness to launch noble initiative to foster global peace, resolve conflicts and lay the bases of sustainable development for the sake of mankind.
He wished HRH the Prime Minister abundant health and happiness and more progress and prosperity to Bahrain under the leadership of His Majesty King Hamad bin Isa Al Khalifa. Separately, HRH the Premier received a cable of thanks from the Board of Directors Chairman of the Bahrain Bar Society (BBS), Lawyer Hassan Ahmed Bedaiwi.
BBS chief extended deepest thanks and gratitude to HRH the Prime Minister for receiving BBS board chairman and members, and praised the warm welcome accorded to them by the Premier. He also hailed HRH Premier's keenness to listen to their demands with open-mindedness, especially those related to the issuance of a new law on the legal profession.
He also lauded HRH the Prime Minister's interest and keenness in resolving any problems facing them, and discussing any suggestions that would achieve the interests of the Judiciary, and enable lawyers to carry out their duties of establishing the right and justice for the citizens and residents.