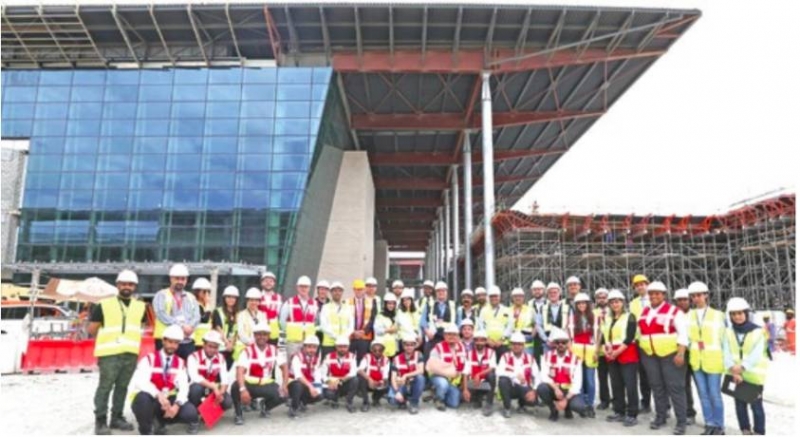 Training progress of 1,300 operators at new terminal building stressed
Ongoing preparations to train more than 5,800 Bahrain International Airport stakeholders (BIA) on how to effectively operate the new Passenger Terminal Building are progressing on schedule, the Minister of Transportation and Telecommunications and Bahrain Airport Company Kamal Ahmed has announced.
Since the launch of the familiarisation and contractor training programs three months ago, more than 1,300 employees have been trained, making up 27 percent of the overall number of stakeholders set to participate in the lead up to the new terminal's launch. The minister said: "The new Passenger Terminal Building's advanced systems and state-of-the-art equipment requires considerable skill to operate, which is why these training sessions to test the readiness of systems, processes, and the familiarity of employees with the new building are so vitally important.
When the new facility opens, employees should be fully prepared to ensure that passengers enjoy a transformed travel experience. "Team members from BAC, Bahrain Airport Services (BAS), the Labour Market Regulatory Authority (LMRA), Hala Bahrain, Gulf Air, airlines operating out of BIA, and the Ministry of Interior's (MoI), Airport Police Directorate, Customs Affairs, and National Passport and Residence Affairs have attended 170 familiarisation training sessions to date."
The minister added that in addition to the training plan developed by FRAPORT, the ORAT consultant, the program is expected to accelerate over the next three months to include more staff and cover all required technical aspects.
To date, more than 500 key members of staff from BAC, BAS, and the MoI have participated in 70 contractor training sessions designed to test the new facility's information and communication technology (ICT) and baggage handling systems (BHS). The sessions provide an excellent opportunity for BIA stakeholders to demonstrate their in-depth understanding of the new systems and highlight any potential issues to the respective contractors.