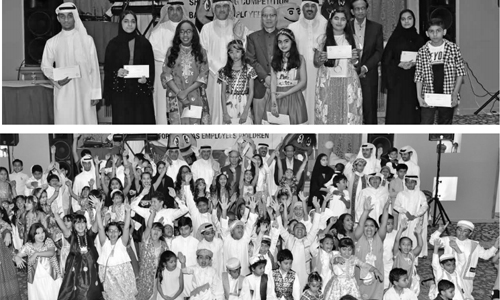 Banagas honours SHE drawing competition winners
Banagas held its annual Safety, Health & Environment (SHE) Drawing Competition for employees' children. The event consisted of several programmes including the celebration of Gurgaon night and the distribution of gifts to all employee's children. The event was held under the patronage of Khalid Ahmed A.Karim, General Manager Production.
Khalid Ebrahim Al- Thawadi, Manager Maintenance, Dr Ahmed Ali Al Kaabi, Manager Administration, Abdulfattah Mohamed Al Janzoury, Manager Finance & IT, R. Srikumar, Acting Manager Operations, Trade Union members and a large number of employees were present on the occasion Children Age Group from 5 - 8 Years winners: Noor Ali Kadhem, Adnan Hani Abdulla, Aisha Yusuf Al Mehaizea and Fatima Amer al Alawi.
Children Age Group from 9 - 12 Years winners are Husain Mohamed Ali, Mariam Husain Mihamed, Sayed Abbas Kadhem Sayed Abbas and Retaj Ahmed Janahi. Children Age Group from 13 – 16 Years winners are Fajer Mohamed Mahboob, Safa Abdulshaheed Fayez, Fatima Abdulshaheed Fayez and Ali Khalid Abdulla.