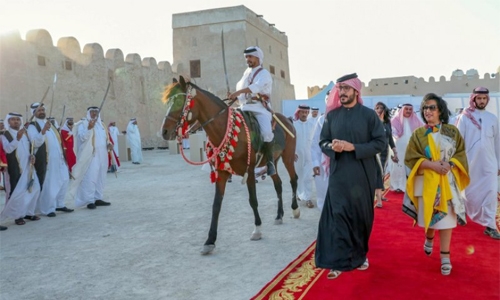 Spotlight on Arabian Horse tradition
His Highness Shaikh Khalid bin Hamad Al Khalifa yesterday praised the extraordinary efforts being exerted by Bahrain Authority for Culture and Antiquities to organise the 27th Annual Traditional Festival. The festival, HH Shaikh Khalid, the First Deputy President of the Supreme Council for Youth and Sports and President of Bahrain Olympics Committee (BOC), said, "Sheds light on the genuine and authentic Bahraini traditions."
The festival is being held this year under the slogan "The Arabian Horse". HH Shaikh Khalid bin Hamad Al Khalifa was patronising the opening ceremony of the Festival as deputised by HM King Hamad bin Isa Al Khalifa. Organised by Bahrain Authority for Culture and Antiquities, the event which began on Wednesday will continue until 3 May 2019, at Shaikh Salman bin Ahmed Al Fateh Fort in Riffa.
"The theme of this year's festival emphasises the continuous efforts of the Kingdom of Bahrain to look after the genuine Arabian horses and to express their high prestige among the rulers of Bahrain over time," said HH Shaikh Khalid adding: "Since ancient times, Bahrain has been associated with horses, which highlights its prominent role in preserving them, making them part of the historical identity established by the ancestors and fathers of the rulers of Bahrain."
"HM King Hamad bin Isa Al Khalifa has adopted an approach based on his grandparents to preserve Bahrain's horses through the efforts of the Royal Studs." Following the opening ceremony, Shaikh Khalid toured the main tent of the festival which featured historical photos and museum exhibits, as well as photos of horses belonging to the Royal Studs, taken by Shaikha Hanan bint Hassan Al Khalifa.
The exhibition also included paintings by Shaikh Salman bin Ahmed Al Khalifa and Shaikha Mariam bint Abdulrahman Al Khalifa. During his tour, HH Shaikh Khalid exchanged friendly talks with the participants in the festival.