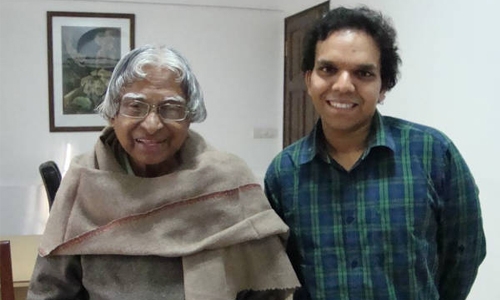 Space has more things in store for humans: expert
Exploring the possibilities that space has to offer is one of the best ways to further advance the human race, said Srijan Pal Singh, a leading space expert, author, public speaker, social entrepreneur and Chief Executive Officer of Dr A P J Abdul Kalam Centre. Mr Srijan is in the Kingdom to deliver a keynote speech on the Iife and vision of Dr Kalam, former President of India and renowned space scientist, at the Bahrain Keraleeya Samajam (BKS) tomorrow as part of the ongoing book fair and cultural fest.
During a brief interaction with Tribune, he said space settlement, space tourism and space defence force are the three latest topics intensively researched by space scientists as well as widely discussed by space enthusiasts. "Among the three, space settlement deserves maximum attention. If the researches in this field succeed, it is going to bring about a remarkable change in our lives. "Space tourism is only the first step towards the colonisation of space. It will help us understand the space more. For instance, the Mars exploration missions mainly focus on the factors in that planet that support life.
"There could be a large scale migration of human race to Mars in the decades to come. But before that, we need to understand the existing challenges." Speaking about space defence force, a topic of deep interest to US President Donald Trump, Mr Srijan said the proposals could lead to a growth of a new defence sector. "All weapons have to be redesigned for space purpose. For instance, if a man fires a bullet from space, along with the bullet he will as well start moving towards the infinity in the absence of gravity and friction."
Mr Srijan expressed hope that all ongoing space research activities would eventually reap benefits for the common man. "Undoubtedly, common man has been the number one beneficiary of space research. All of us are, these days, using GPS applications. Satellites have made tsunami and earthquake warning systems more efficient. "Satellites have revolutionised broadcasting of television channels, telecommunication technologies and telemedicine." The social entrepreneur asserted that in all aspects space science is a "common man's science" as it will widen the horizons of human race.