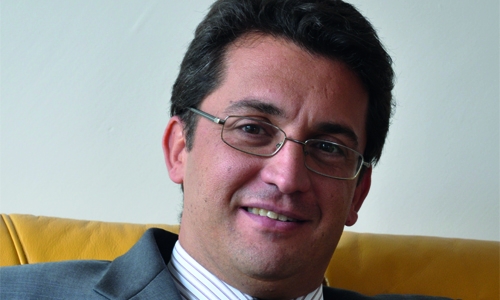 Today, May 9, the European Union celebrates Europe Day, marking the anniversary of the Schuman Declaration of 1950, setting up a joint European authority to oversee the production of coal and steel. Since the birth of the European Communities in 1957, the citizens of our Member States have enjoyed more six decades of unprecedented peace, prosperity and security, after two catastrophic wars in Europe between 1914 and 1945 which left millions dead, and a continent devastated, divided and prostrated. For countries that had long been at war, European integration has been the most successful peace project in our history, it is also a common story of prosperity, equality, well-being and sustainability, a shared success story.
Bahrain sets important precedents in the region. The most recent World Economic Forum (WEF) Gender Gap Report has named the Kingdom of Bahrain as one of the region's best-performing countries, having closed between 65% and 63% of its overall gender gaps. The Kingdom has almost closed its gender gap in educational attainment (99%) and in health and survival (96%). Bahrain's also undertakes important efforts to achieve the UN Sustainable Development Goals DGs through the ongoing implementation of the Government Action Plan (2015 – 2018) translated into concrete projects such as initiatives on sustainable urban development, infrastructure, healthcare and institutional reform. Bahrain is also committed to fighting corruption, one of the UN SDG.
The EU considers Bahrain as an important partner in the Gulf and our ambition is to have a comprehensive and multi-dimensional cooperation covering political dialogue, economy and trade, sectorial and regional cooperation as well as Human rights. We do not want to merely "talk" but would like to propose programs to advance this common agenda and can work together on their conception and implementation. We can further build on the existing mutual trust, to widen our scope of cooperation. We should consider broadening our engagement, for instance in human trafficking or gender issues as well as economic cooperation, namely support for Labour reform and youth. We should explore together many avenues of cooperation to rise to our mutual ambitions.
The EU is very happy to have established the informal Human Rights dialogue with Bahrain and is looking forward to its third session in Manama on April 15 to discuss and address constructively Human Rights either in Europe or in Bahrain. It is important that we continue our meaningful and comprehensive dialogue on Human Rights and all other issues of mutual concern; partners need to speak openly and frankly not only when we see eye to eye but in all circumstances. The EU engagement in Bahrain is long-term; the EU stands by Bahrain and its people and can provide its expertise and know-how, upon request in so many different areas. The EU and Bahrain share many interests in the region and the EU is committed to supporting its stability, security, democratic credentials and inclusive society.