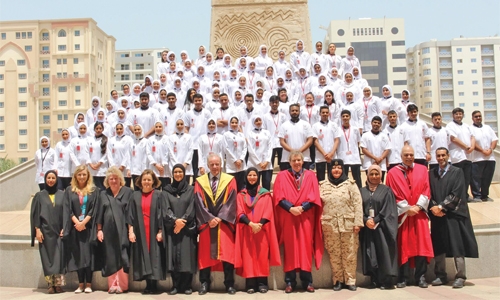 RCSI Bahrain nursing students celebrates White Uniform Ceremony
Manama : 90 nursing students from the Royal College of Surgeons in Ireland - Medical University of Bahrain (RCSI Bahrain) celebrated a seminal moment in their training and future careers as they donned their white uniforms for the first time.
The annual White Uniform Ceremony, which was attended by students' family members and staff, is a symbolic event based around the presentation of the uniforms and marks the entrance of first year nursing students into clinical training.
The event featured an address by RCSI Bahrain's Head of School of Nursing and Midwifery, Professor Seamus Cowman, who highlighted the professional roles and responsibilities of nurses, while stressing the code of conduct for nursing in Bahrain.
Guest speakers on the occasion were Lt Col Amal Shehab – Head, FMB Continuing Medical Education, Bahrain Defence Force Royal Medical Services and Year 4 nursing student, Hawra Abdulnabi Ateya.
The ceremony concluded with the students' recital of the professional declaration, through which they vowed to maintain professional attitudes and behaviours in work and relationships with classmates, teachers, patients and the community.