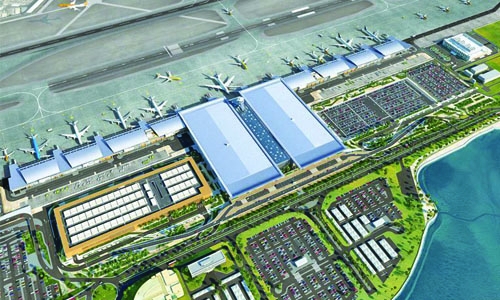 New Airport terminal set for 2019 soft launch: report
Manama : A soft opening of the new $1.1 billion passenger terminal under-construction at the Bahrain International Airport will be held by September next year, according to a report.
Quoting Transport and Telecommunications Minister Kamal Ahmed, MEED reported that the first phase of the project is expecting completion in the third quarter of 2019.
"We expect to start the new airport's soft opening by September next year," the report quoted Kamal Ahmed as saying.
The minister told the website: "We are doing very well. I think this could be the shortest [implementation] period for a project of this kind."
The report also claims that the "existing terminal will be demolished once the expanded airport is 80 per cent complete".
The project, funded jointly by Abu Dhabi Fund for Development and the Government of Bahrain, is being managed by UAE-based Arabtec and Turkey's TAV Airports. According to Airport technology, the grant is part of AED9.19bn ($2.5bn) fund offered by the UAE in 2013 as part of the Gulf Cooperation Council (GCC) development programme for Bahrain.
The first stage of the project, part of the airport modernisation programme (AMP), was officially launched in March 2015 and entails 95pc of the entire project. Construction on the terminal building began in February 2016.
Once completed, the new passenger terminal will occupy 220,000m², which is four times the size of the current airport.
The report, quoting the Minister, said that the under-construction terminal is designed to handle 14 million passengers annually.
The Transport & Telecommunications Ministry also plans to develop a new cargo facility close to the expanded airport, the report said.