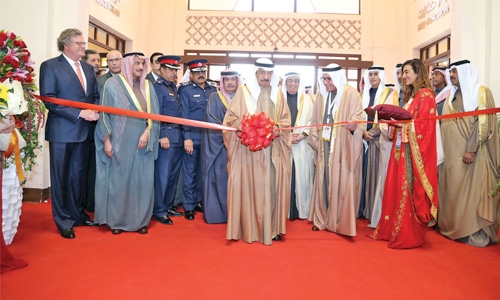 Government's focus on more jobs: PM
Manama : His Royal Highness Prime Minister Prince Khalifa bin Salman Al Khalifa opened the Gulf Industry Fair (GIF-2017) at the Bahrain International Exhibition and Convention Centre (BIECC), yesterday.
On the occasion HRH the Prime Minister underscored the government's unwavering support to Bahrain's industries by providing them favourable environment to ensure industrial growth.
Noting that GCC has a robust industrial base in manufacturing, HRH the Prime Minister pointed out that steps are being taken to stimulate investments in mega industrial projects.
HRH Premier said the government is focusing its attention on investment in the industrial sector as part of its efforts to diversify the sources of income and generate jobs for Bahrainis.
HRH the Prime Minister asserted that Bahrain had been keen on putting in place laws and regulations to ensure a suitable environment for all kinds of investments to encourage investors to choose Bahrain as their first option for starting projects.
The Prime Minister stressed the importance of GIF, being an annual occasion when major companies promote their products, and take advantage of the Kingdom's strategic location as an investment hub in the region.The three-day event will conclude on Thursday.Industrial heavyweights from the region are participating in the exhibition, with a strong line-up of 90 local international exhibitors showcasing their products and services at the Fair.
Companies at the exhibition represent aluminium, energy and environment, industrial metals, industrial processes and manufacturing, ports and marine sector, industrial facilities and logistics, training for industry and fire and safety sectors. After the inauguration, HRH the Premier toured the exhibition and appreciated the quality of the expo.
Industry, Commerce and Tourism Minister Zayed bin Rashid Al Zayani extended sincere thanks and appreciation to HRH Premier for patronising the opening of GIF 2017, noting that the Premier's patronage reflects the interest of the leadership and the government in attracting modern technology and foreign investments.
He pointed out that the industrial field in the kingdom is flourishing thanks to the directives of the leadership.