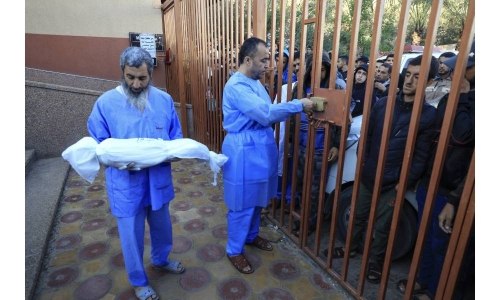 Israeli forces search in Al-Shifa Hospital as Palestinians stranded inside
AFP | Gaza
The Daily Tribune – www.newsofbahrain.com
Israeli forces were searching building to building at Gaza's main hospital yesterday as Hamas said the military had "destroyed" parts of the compound where concern has mounted for the Palestinians trapped inside who may number in their thousands.
The UN's World Food Programme said yesterday that civilians in Gaza faced starvation as food and water have become "practically non-existent". "With winter fast approaching, unsafe and overcrowded shelters, and the lack of clean water, civilians are facing the immediate possibility of starvation," the executive director of the Rome-based WFP, Cindy McCain, said in a statement.
Soldiers raided the Al-Shifa Hospital a day ago in the hunt for a command centre they say the Palestinian fighters built below the complex, a charge denied by Hamas and managers of the hospital that has become a focal point of the war. Ashraf Al-Qudra, spokesman for the health ministry in Gaza, told AFP Israeli troops "destroyed the radiology service, and bombed the burns and dialysis departments".
"Thousands of women, children, sick and wounded are in danger of death," he said. Before Israel first sent troops into the hospital complex on Wednesday, UN agencies estimated that 2,300 patients, staff and displaced civilians were sheltering at Al-Shifa without enough food, water and fuel for generators.
Israel has vowed to eradicate Hamas in retaliation for the atacks of October 7, which killed 1,200 people, most of them civilians, and saw about 240 people taken hostage, according to Israeli officials. The Israeli military says 51 of its troops have been killed in Gaza since fighting began.
But with the Hamas government media office saying the death toll from the offensive has now topped 11,500, including thousands of children, calls for a truce are mounting. Gaza's 36 hospitals have been caught up in the war, with more than half rendered non-functioning by shortages, combat or damage, the UN has said.
'Violent attack'
The Red Crescent said a "violent attack" was underway on Gaza's Al-Ahli hospital, which was hit by a strike on October 17. Hamas blamed the blast on Israel, while Israel said a misfired Islamic Jihad group rocket was responsible, a position supported by US and some other Western security officials.
"Israeli military tanks besiege Al-Ahli Baptist hospital in Gaza, and violent attack is underway. (Red Crescent) teams are unable to move and reach those who are injured," the group said on social media.
Communication blackout
The head of the UN agency for Palestinian refugees said yesterday he feared for civil order in Gaza after communications blacked out again amid dire fuel shortages.